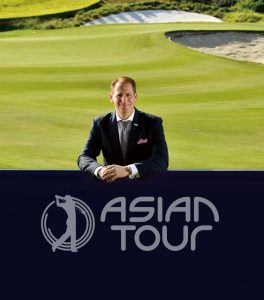 The Asian Tour, official sanctioning body for men's professional golf in the region, announced today that its Chief Executive Officer, Josh Burack, has decided to resign.
Citing family reasons for his resignation, Burack said he wants to travel less and spend more quality time with his wife and two children.
Since taking over the helm as CEO in October 2016, the Asian Tour enjoyed a period of rapid growth as events on the main circuit have increased from 24 in the 2016 season to more than 30 in 2018.
In 2017, the Asian Tour returned to China following a nine-year absence. This season, two more events in China have been added to the Tour schedule including the lucrative CN¥20,000,000 (approximately US$3,178,000) Volvo China Open. 
The Tour has also added playing opportunities in India, Korea, Australia, New Zealand, Fiji and South Africa for its members. New tournaments have been recently announced for Malaysia, Pakistan and Vietnam later this season.
During Burack's tenure, the Asian Tour recently added a host of media partnerships to increase the promotion of the Tour with the key publications in the region including Bloomberg, Bloomberg BusinessWeek, Wall Street Journal, Golf Asia, Golf Digest India and Golf Journal Korea. Most significantly, in 2017, the Asian Tour became the first Tour outside Europe to become an affiliate of the R&A. 
Jimmy Masrin, Chairman of the Board of the Asian Tour said: "The Tour is very appreciative to Josh for his passion and leadership over the last two years he has led the organisation. The Tour has achieved much and wishes Josh the best of luck in his future endeavours."  
Asian Tour Chief Executive Officer Josh Burack commented: "It is with mixed emotions that I have decided to leave the Tour when reaching the two-year mark.  My two children have been urging me to travel less and spend more time with our family, so I want to respect their wishes and not have any regrets of my own later.  With the Asian Tour in a much stronger position now than when I joined, I know our talented team will be able to continue the progress.  My sincere thanks to them and our Board of Directors for providing me with the opportunity to lead the Asian Tour.  It has been a great honour and I will always remain a huge supporter of the Asian Tour."
Photo credit: Asia Tour