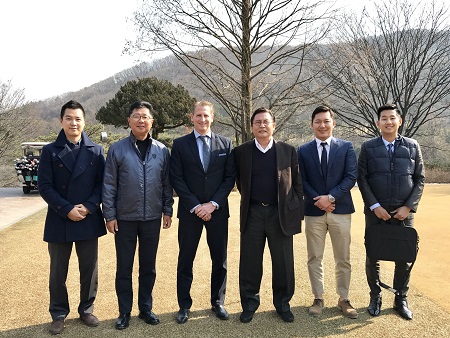 The Asian Tour will strengthen its presence in Korea having reached an agreement with the Korea Golf Association (KGA) for the two organisations to co-sanction the Kolon Korea Open and GS Caltex Maekyung Open tournaments from next season.
Formerly part of the OneAsia Tour, these two events boast prize purses of over US$1 million and US$900,000 respectively.
The Asian Tour will receive spots for 50 players in each tournament and additional members of the Asian Tour are likely to qualify through their eligibility status on the Official World Golf Ranking.
The co-operation between the Asian Tour and KGA will be for an initial period of five years. Together with the recently concluded Shinhan Donghae Open, there will now be at least three Asian Tour events held annually in Korea from 2018.
Asian Tour CEO Josh Burack said he looks forward to working closely with the KGA to raise the profile of these two tournaments which in turn helps the overall profile of golf in Korea and regionally.
Burack said: "We are thrilled to add the Kolon Korea Open and GS Caltex Maekyung Open onto the Asian Tour schedule. Both tournaments have a long and storied history. The Kolon Korea Open has been staged for 60 years and the GS Caltex Maekyung Open for 37 years.
"We are honoured to have our Asian Tour members joining the talented Korean players in these outstanding tournaments. Our strong relationship with the KGA will allow us to amplify these tournaments in Korea and around the globe. We look forward to co-operating with the KGA, as Korea is a key market for us."
Hur Kwang-soo, President of the KGA, said: "The Asian Tour will further raise the profile of our tournaments in Korea with the quality and depth of their players along with their impressive international TV distribution which will provide a great deal of value for our sponsors.
"We are very supportive of the Asian Tour and are pleased to collaborate with them on the two showcase men's tournaments of the KGA."