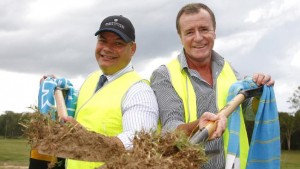 THE Gold Coast Titans have found themselves in plenty of holes over the past 12 months but club boss Graham Annesley was happy to be pictured with a shovel in hand as the club celebrated the arrival of a new era.
On the same day that highly rated sports administrator Brian Canavan officially started in his role as chief operating officer with the club, the Titans marked the start of Club Parkwood with turning of the first sod on the project.
The purpose-built training and administration centre at Parkwood International Golf Course will give the Titans one of the most sophisticated bases in the NRL and is another significant step in the club's march back from the brink.
"This is a very significant day for the Titans and for Parkwood,'' Annesley said.
"We look forward to being on site with our administration and our football departments.
"I think this really is a groundbreaking project, not only for rugby league but for sport generally and for golf courses as well.