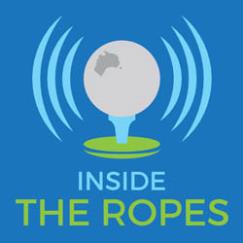 Golf Australia and various state associations proudly announce a new golf podcast, Inside The Ropes.
In conjunction with Radio RSN, the podcast will feature golf news and interviews from an international level, stories from around Australia and right down your street – and all in packages tailor-made for each state.
Golf Australia digital director John Sutherland said Inside The Ropes would hopefully entertain all Aussie golf fans – and provide them with information that might otherwise not have been available.
"Bringing golf information to golf fans and the industry comes in many forms these days and we're really pleased to bring a heap of news and views that can be digested as individuals please," Sutherland said.
"The beauty of podcasts is we're not limited to particular content or show lengths and obviously they can be downloaded and played as people find their own time.
"So we hope this is the forerunner to a future of timely information for all Aussie golf fans. Certainly there's no limits on what the team will discuss – men's, women's, pros, amateurs, state news, club news, special achievements and maybe even tips to improve your game.
"We encourage all involved in the golf industry to not only give it a listen, but to share it among their networks so that we can all shape the program into what our audience wants and needs to hear."
Inside The Ropes is available now on www.golf.org.au or you can subscribe on iTunes or your favourite podcast app. A version will also be heard weekly on RSN 927 Melbourne from 6-7am every Sunday.
Hosts Andy Maher and Mark Hayes will be joined by a rotating panel of co-hosts to chat about hot topics and interview those making global waves, or those simply with a funny tale to tell from their local club.
Each week, for all states involved, a custom-made podcast will be distributed via state websites to ensure the most relevant news for all listeners.

"We're delighted to form this partnership with RSN whose staff have been energetically behind the project to make sure golf maintains a voice in the media," Sutherland said.
"That they're helping us create bespoke products for each state that's participating is an enormous sign of their goodwill and the growing unity among those in the golf industry to best share resources for the game's benefit."
Click to listen to episode one and/or state specific programs