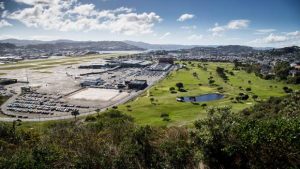 One of Wellington's premier golf clubs stands to be slashed in half so the capital's expanding airport can park more planes.
Under the worst-case scenario, this would see the airport buying half the course, and force it down to nine holes, Miramar Golf Club spokesman Kevin Banaghan said.
The airport had about 200 options on the table. Each of these involved taking over some of the existing course, he said.
The airport, under the Public Works Act, had the power to buy land as it saw fit, but this could be appealed in court. Whether the club would take this route was not yet decided, he said.
The airport said the current site was "extremely small" for an airport with six million passengers a year, and numbers were expected to grow.
"We're exploring a range of options to accommodate the expansion of our aircraft parking areas and we are working together with the golf club to look at the options and possibilities.
"We have had an agreement and sponsorship with Miramar Golf Club for over 20 years which included that there might be a need in the future for the expansion of the airport. We're committed to supporting the club and its members."
Source: Stuff