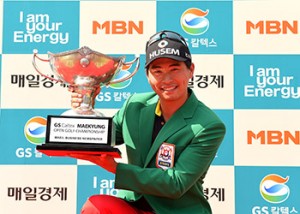 Hong Kong: OneAsia embarks on its eighth season this year, showcasing a strong backbone of lucrative tournaments across the region.
A total of nine events, each offering more than US$1 million in prize money, are planned for 2016, starting with the Volvo China Open at Topwin Golf & Country Club from April 28-May 1.
Korea's three flagship events – the GS Caltex Maekyung Open, SK Telecom Open and Kolon Korea Open – once again make up the North Asia swing.
Tournaments in China, Thailand, Indonesia and Fiji are also planned with details being finalised. The season will come to an end with the Emirates Australian Open at Royal Sydney Golf Club.
The season officially starts when the Qualifying School tees-off at Sutera Harbour Golf and Country Club in Sabah, Malaysia, from March 1-4.
"OneAsia will once again offer a multi-million dollar circuit featuring many of the most prestigious events in our region," said David Parkin, Director of Tour Operations, OneAsia.
"We boast a schedule that has huge potential to accomplish our mission of creating a Tour that will allow players from Asia-Pacific to go on to become world-beaters."
This year players will attempt to match Korean Moon Kyong-jun's 2015 campaign when he claimed the OneAsia Order of Merit title with earnings of US$224,953. He marched to victory on home soil in the GS Caltex Maekyung Open.
OneAsia was founded in 2009 by the China Golf Association, the Korea Golf Tour, the Korea Golf Association and the PGA of Australia and bills itself as 'the first ever circuit in the region that covers the whole of the Asia-Pacific rim'.