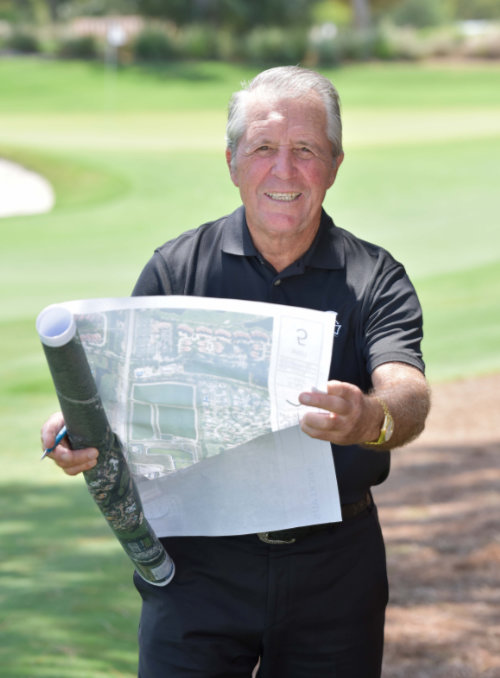 Golfing legend and designer of over 135 courses around the world, Gary Player, has enlisted the world's leading course design firm Nicklaus Design to help him launch a revitalized Gary Player Design business.
This is  part of the recent restructuring of his business ventures and brands under his marketing firm, Gary Player Enterprises.
The strategic alliance will allow Gary Player Design to draw immediately upon the talents and infrastructure which have made Nicklaus Design the leading force in golf design over the last 50 years.
"When I approached Jack, my goal was to create a relationship that would elevate my design business, and I am thrilled to have my design work supported by the most talented and thorough design firm in the world," said Player, winner of 165 tournaments on six continents including 9 major championships.
Jack Nicklaus added, "When I partnered with Howard Milstein in June 2007, one of the goals was to institutionalize and strengthen the Nicklaus Companies to continue my personal legacy in the golf business and ensure the expertise and resources needed to develop and support the people who will design the golf courses of the future. Now, we're happy to be in a position to facilitate the next phase of my dear friend Gary's career."
"With over 425 golf courses in 46 countries and 40 United States, our staff at Nicklaus Design is ideally positioned to support Player Design in pursuing any project in the world," said Howard Milstein, Executive Chairman of the Nicklaus Companies. Nicklaus Design golf courses have hosted over 1,000 professional or major amateur tournaments throughout the world.
Player, a native South African, has always stayed true to his deep passion for nature and the outdoors in his work for over 40 years as a golf course designer, and he is committed to designing golf courses that are both environmentally responsible and welcoming to all. "I love working with the land to develop a truly memorable, challenging, and enjoyable golf experience", said Player, "and working with the support of Nicklaus Design will allow me to concentrate on the unique, creative opportunities that each site presents to me."
"Gary's dedication and energy level for designing golf courses is inspiring," added Paul Stringer, President of Nicklaus Design. "We look forward to helping Gary Player Design translate his vision into unique designs for new golf courses and reach out to Gary's existing golf courses to help them remain up to date and competitive as new trends develop in the industry".
Related Articles: