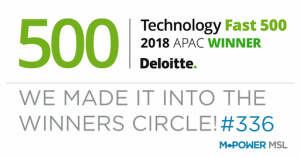 MSL (ASX:MPW) today announced that it ranked Number 331 on the Deloitte Technology Fast 500™ Asia Pacific 2018, a ranking of the 500 fastest growing technology companies in Asia Pacific. Rankings are based on percentage revenue growth over three years. MSL grew 178 percent during this period.
Craig Kinross, MPower MSL Managing Director and CEO said, "Being a Deloitte Technology Fast 500 winner underscores the impact of our technological innovation in the sports, leisure and hospitality industry. Our world-class solutions continue to help transform these industries, so they can deliver a truly exceptional customer experience."
"Making the Deloitte Technology Fast 500™ Asia Pacific ranking is a testament to a company's commitment to technology," Toshifumi Kusunoki , Deloitte Leader, Technology Fast 500™ Asia Pacific program. "With its 178% growth rate over three years, MSL has proven that its leadership has the vision, determination and ability to adapt and grow in a fast changing environment."
Kinross continues "MSL are the leaders in developing loyal communities across the sports, leisure and hospitality industry globally. We deal with any business that has a community membership base at its core. It is our systems that some of the world's favourite sports and entertainment companies rely on every day to understand their customers and how they are transacting with their venue so that they can ultimately improve their experience to build long-term engagement and loyalty – which leads to more revenue and greater profitability."
The extraordinary growth we have had in the past 3 years is illustrative of the success we are having locally in Australia, and internationally in the Europe and the Middle East regions. Our technology is unique to the market and our continual innovation ensures our customers are not only successful today but can scale quickly to deliver in this experiential economy. We now have over 2400 customers globally and plan to double this over the next 4 years.
Servicing all our verticals with MSL's industry-first SaaS collaboration platform, MPower Connect, gives our customers a 360° view of the guests interacting with their business in real time so they can proactively deliver an intentional customer experience that allows our customers to thrive, and not just survive, in today's market.
In addition to ranking on the Deloitte Technology Fast 500™, MSL ranked 31 on the Australia Deloitte Technology Fast 50, which is a ranking of the 50 fastest growing technology firms in Australia.