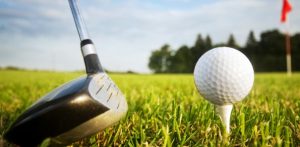 The New Zealand Golf Awards were presented during round three of the 99th ISPS Handa New Zealand Open with many New Zealand Golf stakeholders gathering at the Millbrook Resort for the ceremony.
Motueka Golf Club featured by claiming the honour of Holden Club of the Year with their 23% growth on membership in the past three years anchoring their success. The club also promotes the growth of the game by supporting a local professional to visit all schools in the region and to deliver after school coaching session once a month.
"We are incredibly proud of this award and we didnt think we had too much of a chance until we started putting together the application, then things started sounding pretty good all of a sudden," said Peter Johnson who represented the club with pride.
"We have been working very hard and will have champagne ready to go for everyone as they walk off the golf course today."
Motueka Golf Club has actively grown sponsorship nearly doubling 2016 levels in 2017 and they have executed a strong She Loves Golf programme which has generated 20 new members since its inception.
Allen Forrest was a popular winner of the Holden Volunteer of the Year award for his efforts and contribution to the game of golf. Better known as Forrie, he has been involved with the association in Hawkes Bay for over 30 years.
Forrie lives a two hour drive from where the majority of his golf meetings are held and is required to take this journey three to four times a week to fulfil his impressive duties.
After a superb year on the European Tour, Ryan Fox can add another trophy to his cabinet after claiming the Mens Player of the Year and his coach, Marcus Wheelhouse was named the Coach of the Year as he continues to produce amazing results in all areas of golf and more importantly, at all levels and ages of the game.
World number 11, Lydia Ko takes home the Womens Player of the Year award as she continues to show consistency on the biggest stage in womens golf, the LPGA Tour.
One of our newest professionals, Nick Voke showed why he was named Amateur of the Year by finishing as the top Kiwi at this years ISPS Handa New Zealand Open, which comes of the back of a hugely successful College career at Iowa State. Julianne Alvarez, who also took up a scholarship in America has been awarded the Womens Amateur of the Year prize as she continues to impress at this level.
The National Golf Awards are our opportunity to celebrate everyone involved in the game and their achievements. Whether it be performers on the world stage or a volunteer at your local club who deserves a mention, the National Golf Awards gives us the opportunity to say thanks.
With 11 categories covering playing, delivering and administrating of our great game, the awards celebrate excellence right across the industry and here are your 2018 winners:
New Zealand Golf Award Winners
Disabled Golfer of the Year: Wayne Eder
Club: Waimari Beach Golf Club
GMANZ Administrator of the Year: Sue Falconer
Club: Lakeview Golf & Country Club
Holden Volunteer of the Year: Allen Forrest
Club: Porangahau & Waipukurau
Holden Club of the Year: Motueka Golf Club
District: Tasman
PGANZ Professional Coach of the Year: Marcus Wheelhouse
Jennian Homes Amateur Golfer of the Year Male: Nick Voke
Club: Windross Farm
Jennian Homes Amateur Golfer of the Year Male: Julianne Alvarez
Club: Manor Park
Professional Player of the Year Male: Ryan Fox
Royal Auckland and Grange
Professional Player of the Year Female: Lydia Ko
Club: Pupuke
GMANZ Manager of the Year: Chris Davies
Club: Remuera Golf Club
Community Coach of the Year: Grant Boyd
District: Otago