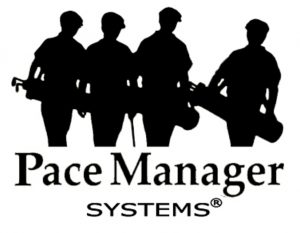 By Bill Yates
In a previous article I noted that golf course management teams are in the business of not just welcoming guests and graciously dispatching them to the first tee, but of actually taking responsibility for their experience on the course. I'll say again that the "product" of golf is that experience and the memory of that experience that the golfer takes away.
What are the most imperative key elements of a good golfing experience? Survey after survey has shown that players point to two things:
1) The physical condition of the course,
2) How smooth the round is; i.e. no frustrating backups, waiting, and playing delays.
If you're a management team that can meet the challenge of delivering a beautiful and well-maintained course, and a round that's not interrupted by delays which will destroy concentration and pleasure, consider yourself home free. You're giving your players exactly what they're begging for. If not, this article should help.

This business of improving the golf experience for players, which I've focused on for years, has surfaced a lot lately. A while back I was honored to be invited by the USGA to participate in a one-day "Golfer Experience" brainstorming session in New Jersey. The 38 participants included USGA staff members, golf course architects, state golf association representatives, member representatives from courses of all kinds, golf management company representatives, a PGA senior manager and the CEO of the NGCOA. In rotating breakout groups, we were tasked with looking at the game from the perspective of the players and identifying the areas where improvements of the playing experience could be made with the biggest impact.
I'd like to suggest that you do this too, at the individual course level, by gathering your staff together for a bit of brainstorming.
Here's an interesting thing to include in your discussion: Over the years I've found that golf managers and staff members know a little too much about their courses. Huh? Yes, it's true. Having all that in-depth knowledge about the course often means that you may not be able to see or experience the course as your players do, and that's the kiss of death.
For example, every staff member knows how to get to the course, where to park, where the bag drop is and where you go to check in for your round. But many players at a public or resort course are seeing it all for the first time and don't have a clue. Floundering around right at the start can lead to player frustration, late check-ins, a rush off the first tee and a poor start to the day. Not a good way to create a relaxing, fun experience for your playing guests.
You and your team can break down the process of playing golf on your course as I do when I work with a course, and as we did in the USGA session. Look at the following elements "through the eyes of your customers" in terms of their major steps and potential player concerns that result from your property's layout and traditions, and your own management practices:
a) From home to the course,
b) At the course and before the round,
c) During the round,
d) Following the round.
Then ask yourselves:
What metrics do we use to measure our success in delivering a great playing experience?
Do we ask for and then act on player feedback?
What do we need to know about our players and their experience?
What should our players know in order to have a great experience?
Your return on this minor investment of time will lead to more satisfied and more loyal customers. After all, there are always buyers for a consistent and high quality, high value product.
Founder of the transformational Pace Manager Systems® suite, Bill has dedicated decades to the analysis of how managers can speed up play, improve the golf experience, and increase profits. He has helped hundreds of public, private, municipal and resort courses around the world lower their round times and improve customer value and revenue.
Bill also works with golf course architects and others who are designing, redesigning, or renovating a golf course. His Pace Designer Systems® optimizes the flow of play while the course is being built or rebuilt, and provides tools to manage play from opening day.
Bill is a frequent presenter at golf conferences and has been featured in every major golf publication. He has consulted with the courses at St Andrews in Scotland, the cradle of golf, and has assisted the Royal & Ancient Golf Club and the United States Golf Association in managing the pace of play for their Open Championships.
In 2016 Bill visited Australia when speaking at the Golf Business Forum. Golf Industry Central assisted Bill as he toured around the country working with clubs on some new training programs, improving the experience for members and guests.
Click here to read GIC e-Magazine Autumn 2018