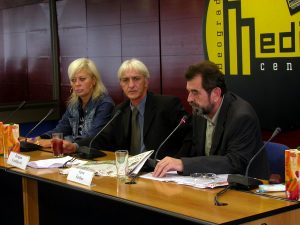 An Australian citizen, and now convicted war criminal, was working incognito as a golf instructor at a community centre in Western Australia before being extradited to his birth country of Croatia in 2015.
Previously teaching golf to children under the name Daniel Snedden, a former Serbian paramilitary commander has finally been brought to justice for torturing and killing soldiers and civilians during Croatia's independence war in the early 1990s.
The court in the Croatian coastal town of Split found Dragan Vasiljkovic, more commonly known as "Captain Dragan", guilty of war crimes on September 26, including torturing of prisoners and an attack on a police precinct at the beginning of the 1991-1995 war in Croatia, in which a civilian and a German reporter were killed
He was sentenced to serve 15 years in jail over his charges.
Vasiljkovic, 62, was born in Serbia and moved to Australia aged 15 and has dual Serbian and Australian citizenship. He was extradited by Australia to Zagreb, Croatia, in 2015, years after a decade-long legal battle following his arrest in Sydney 2006.
He would become the first ever Australian citizen extradited for alleged war crimes.
At the time of his arrest the former commander worked as a golf instructor at a golf range which was attached to a Serbian community centre in Perth's Semi-industrial suburb of Maddington, using his status as a war hero for good, he said.
Vasiljkovic fought his extradition for a decade, tying up countless hours of court time in up to 12 separate cases stretching from the magistrates court to the High Court. When the High Court ruled in favor of extradition, Vasiljkovic bailed.
A large team of AFP officers had to hunt him down and finally apprehended him, after 43 days on the run, at a dry dock on the NSW mid-north coast, where he was preparing to sail a yacht to Europe.
At the time of his arrest, Snedden had been working at the Maddington golf venue under false identity since 2005.
During the one-year long court proceedings Vasiljkovic pleaded not guilty and labelled the trial an "obsessive fascist persecution".
"Neither I committed the crimes stated in the indictment nor they occurred," he told the tribunal recently.
Vasiljkovic's attorneys, who had insisted that as a Serbian national he was not treated fairly, said they would appeal the verdict, national radio reported.
The former commanders' undoing was the result of a decade long campaign carried out by The Australian to ensure Vasiljkovic would have to answer for his alleged crimes.
Those interested in war crimes cases have been highly critical of the fact Vasiljkovic was never prosecuted in Australia, as he could have been.