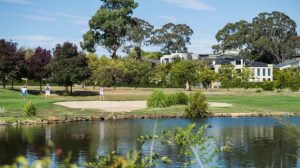 The group has begun community consultation for its "strategic review" of the Gold Creek Country Club.
Last week, the Konstantinou group asked the Gungahlin community to help "re-imagine" more than half the 88-hectare golf course as it looks to either shrink the 18-hole golf course or reduce it to nine or 12 holes in the next three to five years.
The development area is bordered by a row of homes that back on to the golf course.
The group will lodge an application to vary the Territory Plan to change the use of the land from a golf course. It has not revealed details of its plans but does not rule out residential development.
A spokesman for a group of concerned Nicholls residents said it would be "putting at risk 49 pristine wildlife corridor hectares of recreational open space due to rezoning and subsequent redevelopment with units, apartments, and commercial premises."
"We have no problems with genuine community consultation and the promotion thereof if it is impartial and transparent," the spokesman said.
"However, what is now on the table is a forward plan totally out of left field and it's causing great angst in the community."
Long-time resident Gary Samuels, who doesn't live on the golf course,  said the development would mean a significant loss of lifestyle and amenity, hit the wildlife corridors, and reduce property values. It also set a precedent for other golf courses and open spaces.
The Konstantinou Group bought the golf course site for $3 million from the ACT government in 2005. In 2014 it submitted a development application to subdivide its land on Curran Drive.
Click here to read full story