Next week, players at Golf Central BNE, a Golf Entertainment facility located at Skygate Brisbane Airport, will be able to experience the most advanced ball tracking technology on the market – Toptracer.
The club is the first one in the Southern Hemisphere to launch the modern technology commonly used by pros, which will enable players to track ball speed, accuracy and distance of each of their shots.
Whilst Toptracer is owned by sports entertainment giant Topgolf, who recently opened up their first venue on the Gold Coast earlier this year, it is different technology used at Golf Central which gives the customer a completely different experience.  The novel technique has modes and game to suit all ages and skills levels providing an exhilarating experience for professionals as well as novice golfers.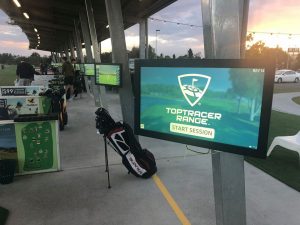 According to their Facebook page, the club has been doing extensive testing of the new equipment on the 50 bay fully floodlit driving range and are set to launch the new product on September 17 and will be available in all of the undercover bays.
"We continually search for ways to improve the golfers experience at Golf Central BNE and we can officially say we are now one of the most technologically advanced driving range facilities in the whole of Southern Hemisphere" said James Cooper, Managing Director of Avid Sports Management, the operator of Golf Central BNE.
"I believe we have a sophisticated facility that appeals to golfers and non-golfers alike, however with Toptracer Range the level of enjoyment will increase 10-fold."
The driving range has been split into two districts; The Play District for groups to relax and have fun, eat, drink and challenge each other to one of 6 Toptracer Range games, and Golfer's heaven, also known as the Practice District where golfers can dive into advanced analytics to fine-tune their swing.
Golfers can also download the Toptracer app to capture and record their results and analytics, enabling golfers to monitor and compare their progression and see how their practice improves each time they visit the range.
"We have a healthy clientele of golfers and non-golfers at Golf Central BNE, and Toptracer Range adds a whole new dimension for every golfer of every skill level, in every bay.  Golf Central BNE has been perfectly set up for the serious golfer and the "hit and giggle" golfer alike." said Cooper.
"I am a strong believer that the game of golf is healthy and still loved by many, however we just need to deliver it in a different fashion.  We are so excited for everyone to experience a modern twist to the traditional game!" said Cooper.
For more information please visit www.golfcentralbne.com.au