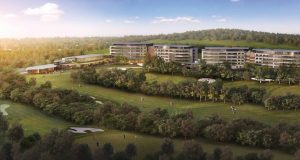 Merewether Golf Club north of Sydney will proceed with an ambitious seniors-living redevelopment and new clubhouse after members approved the project "overwhelmingly" on Thursday night.
The proposal includes four six-storey apartment blocks stretching along one of the course's fairways, a glass-fronted clubhouse, wellness centre, swimming pool, conference centre and course improvements.
The club's secretary manager, Michelle Heritage, said about 200 members had voted "overwhelmingly" to agree to a 99-year lease of club land. The decision allows the club's board to enter a joint venture with developer Thirdi Group's aged care division, ThirdAge.
The clubhouse and course improvements alone will cost at least $15 million.