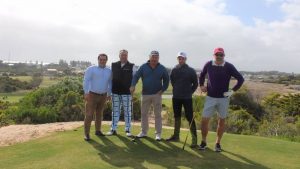 Robe Golf Course has been officially opened as an 18 hole course, following the redevelopment of the course from 12 holes.
Member for Barker Tony Pasin teed off the first ball on the newly completed course on Friday in front of a crowd of Robe Golf Club members and invited guests.
The project was given a boost and received $600,000 from round two of the Federal Government's Building Better Regions Fund that contributed to the $1.4 million project mid last year in July.
Mr Pasin Congratulated Robe Golf Club president in Scott Fennell and the Committee Members for seeing the project completed.
"This will have major flow-on benefits across the community from offering an improved recreational space for the local community to an additional tourism offering it will ensure our region will continue to thrive and prosper into the future," Mr Pasin said.
"Under round two of the Building Better Regions Fund, the Coalition Government has invested over $200 million in 136 infrastructure projects across Australia with a total leveraged project value of $459 million.
"This is fantastic investment for regions across the country."
For Barker, Mr Pasin has been successful in delivering more than $17 million in grants for infrastructure projects across Barker through three rounds of the Building Better Regions Fund.
"It's really fantastic to see projects, like this one, completed and enjoyed by the respective communities.
"A further $200 million was announced in the 2019-20 Budget for a fourth round of the Building Better Regions Fund – a clear indication of the Coalition Government's commitment to create jobs, drive economic growth and build stronger regional communities into the future.
"The Coalition has a plan for regional Australia and we are focused on getting it done. It's a plan to create more jobs, drive economic growth and build stronger regional communities."
Source: costalleader