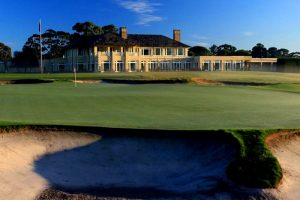 Royal Melbourne Golf Club has prided itself on leading the way on being COVID-safe on the fairways.
Now Royal Melbourne is out in front again with the sport's first "no jab, no play" policy.
The club's 2000 members and staff were told this week that players would need to show proof of at least one shot of a COVID-19 vaccination to take to the course, whenever the state government's ongoing golf ban is lifted.
Club captain Andrew Kirby made it clear there would be exemptions for those whose medical conditions ruled out a jab, but declared zero tolerance for anti-vaxxers.
"A legitimate medical reason will not be: I am waiting for Pfizer; I could not get a vaccination appointment yet; I don't trust the vaccines, the vaccines are a conspiracy to embed us with 5G network tracking devices etc," Mr Kirby wrote.
A COVID-safe stance
The captain told CBD that like last year's COVID-safe stance, the policy has been a winner with the rank-and-file at Royal Melbourne where anti-vaxxers don't appear to be an issue.
"We got incredibly strong support from the members, an amazing number of notes and passionate support from staff and from other clubs," Mr Kirby said.
"We've got lots of rules in golf and here's another one. If you want to play, you'll have to be vaccinated. At least one jab, then two and of course there'll be a system of registration."
Related Articles: