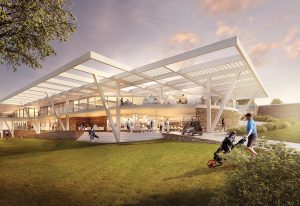 Indicative image of proposed new clubhouse at Pacific Golf Club
Sports club land is up for grabs under new council initiative to attract more aged care and retirement facilities to Brisbane.
There is a growing trend of developers moving in on bowls and golf clubs in the Brisbane and Gold Coast area, proposing to erect large retirement facilities on club land and provide clubs with new cash flow in turn.
Such proposals have gained traction over the past few years as many clubs around Australia are struggling financially but are located on large hectares of land which offers a solution to larger cities' urgent need for more retirement homes.
It's also some clubs only chance to stay financially viable in the future.
Developer giant Retire Australia is planning a 94-unit retirement village at the Tarragindi Bowls Club, which has met some resistant with more than 1800 opposing submissions made. But in line with Lord Mayor Graham Quirk's new incentives to attract more aged care and retirement facilities to the area, including considering proposals on privately owned sport and recreation zones, City Council gave the project the go-ahead on January 24, making it the first facility approved on privately owned sport and recreation land in Brisbane under the new council incentive.
According to The Brisbane Times, Opposition planning spokesman Jared Cassidy said Labor had serious concerns about sport and recreation land being offered to developers as part of an incentive.
"Sport and recreation land should be sacred. It is already at a premium as Brisbane undergoes unprecedented growth," Cr Cassidy told the paper.
"Any land lost is lost forever."
"Losing sport and recreation land disadvantages the entire community including the people who have moved into the aged care facilities."
The council's city planning chairman, Julian Simmonds, told the incentive was introduced to keep pace with the city's ageing population.
"Under the aged care and retirement incentive council will consider proposals for privately owned sport and recreation land but only where there is a clear community benefit as part of the development," he said.
"Council also understands that many private sporting clubs across Brisbane are facing financial pressures and redevelopment of part of a sporting site for aged care or retirement living may help clubs remain financially viable into the future."
Another club in the Brisbane area, Pacific Golf Club (PGC), located in the suburb of Cardinal, has similarly jumped on the retirement village bandwagon together with developer Reside Communities, also in aim to ensure long-term financial sustainability.
The club has reportedly suffered from declining membership and ageing assets — such as the clubhouse — which has placed increasing pressure on the club to fund the upkeep of over 50 hectares of green space through golf-related income alone.
"The cost of maintaining our course is well in excess of $1 million a year and on top of that we have to keep reinvesting into the asset. As with all golf worldwide, it is diminishing in terms of membership," PGC Club president Craig Austen told the Courier Mail.
"We've been a part of Carindale for over 50 years and we want to make sure we're still here in another 50 years."
The anticipated $10 million redevelopment would include 180 retirements units of two or three storeys, and up to five storeys on the sloped section of the site. Plans are set to be lodged with the council in March.
President Austen said a retirement village would give the club an ongoing income stream and allow it to upgrade playing and practice facilities to foster junior golf and develop putt-putt, without impacting on the course or causing any loss of green space.
The proposed site represents only 1.5 hectares of the 53 hectares the club owns (less than 3%). the remaining hectares will be preserved as invaluable suburban "green space" for the benefit of the entire local community for the next 99 years.
According to the developer, the Carindale statistical area inhabits almost 7800 residents aged over 70, a number expected to increase over the next 10 years by more than 2,500, and retirement housing on sports grounds would provide retirement options to suit a range of different needs and prevent an aging population from having to move outside the city.
On the Gold Coast, Burleigh Golf Club signed off on a multistorey dwelling development last year, including 177 living apartments with Australia's fourth largest age-care business Retire Australia.
The proposed partnership would not only secure the club with an upfront lease payment for the 99-year contract, but also a rolling income stream which would improve the club's annual profit after clearing its $100,000 interest payment.
The club's general manager Ian Cottle said he believed the club was being reasonable making the decision to lease part of the club land to ensure the club's longevity.
Retire Australia's chief executive officer Alison Quinn said the golf club's prime location was ideal for a retirement community with more than 9500 people aged over 65 living within a five-minute drive of the club.
"…There is a critical shortage of purpose-built retirement living options in the area," she said. "We want to enable local seniors to age in one place without having to uproot their lives and leave their existing networks of family, friends and service providers."
And the demand for more purpose built housing for the ageing community seems to only continue to surge in the area with Retire Australia's already planning another development at the Ashgrove Golf Club.
In accordance with other sporting site development, the expected joint venture will deliver 150 new purpose-designed apartments for retirees as well as a brand new clubhouse for members' and community use.
Ashgrove Golf Club will retain complete ownership of all property associated with the development, including all land and buildings. Retire Australia will be responsible for developing the project, and will lease and operate the retirement living component once construction is complete.
Applications for another two aged care facilities on land zones sport and recreation in Brisbane's south-east are also likely to be lodged in 2018.