One of Australia's premier golfing destinations Thirteenth Beach Golf Links recently opened up their new Short Course to public play on the 8th March 2021.
The course has since been receiving great feedback and is a great opportunity for emerging golfers to get out on course without the pressure of the big courses.
It's also a great idea for time-poor golfers as it only takes around 1.5 hours to get around.
The Course
Set on the stunning Bellarine Peninsula, 13th Beach Golf Links is famously known for its two award winning courses, with first class conditioning all year round.
The destination has now extended their golf offer with a Short Course comprising 9 holes with multiple tees ranging from 105 metres to 188 metres and a gentle walk.
Designed by Tony Cashmore, who designed the Beach Course (opened 2001) and co-designed the Creek Course (opened 2004) with Sir Nick Faldo at 13th Beach, the complex now comprises 45 holes of golf.
Located at the north-western part of the estate, it is accessible for 13th Beach members, residents, guests, and visitors. Each hole presents a unique challenge with undulating greens and surrounds with run-offs and swales to challenge approach shots and all aspects of the short game.
The course is accessible for all levels of player – from beginner to experienced golfer alike and in keeping with the existing courses, has a contemporary approach to dress code and is available to everyone at any time on an equal access basis.
New Golf Lodges underway
The Club is also in the process of expanding 13th Beach Golf Lodges with 4 x 2 Bedroom Suites coming online before the end of the year.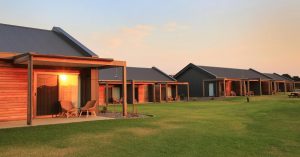 This will add to the course's current 16 Studio rooms and provide another option for groups and families. All rooms, including the new suites, have beautiful views over the first hole of the Beach Course.
The new two Bedroom suites are available for bookings from January 2022.

With the complex now offering 45 holes of golf, luxury on-course accommodation and a modern restaurant & bar, 13th Beach Golf Links is definitely one of the premier golfing destinations in the country.