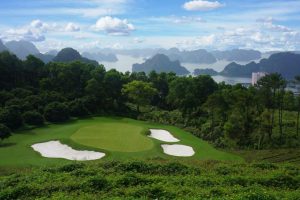 Of the 209 countries around the world with golf courses, the fastest-growing market just might be in Vietnam.
Vietnam currently has 78 golf courses plus another 43 in different stages of development, according to the R&A's latest Golf Around the World Report, which is based on the National Golf Foundation's global facility database. Plans at FLC Quang Binh call for 10 courses on a 5,000-acre property with 120-foot high sand dunes.
Vietnam is now the fastest-developing market for golf in the region.
Much of Vietnam's recent growth has focused on creating quality golf courses at premier properties, many in remote areas. There is strong demand for golf among locals in Hanoi, Vietnam's capital, but the sites are more severe (many on mountains) and the weather isn't as ideal for good turf conditions.
Overall, Asia has 149 courses in planning or under construction and accounts for 28 percent of worldwide development. And no country is growing quite as fast as Vietnam.