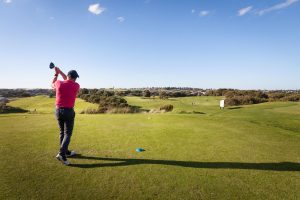 The Warrnambool Golf Club has announced the appointment of Brenton Clarke as the clubs new Course Superintendent.
Brenton will commence in his new role in mid-September, and comes to the club from South Australia's prestigious Kooyonga Golf Club where he worked as Golf Course Foreman.
Turf management
Brenton brings more 13 years' experience in turf management across a range of specialist areas including project management, course renovation and construction, landscaping, irrigation, soil science and plant pathology.
Previously holding Assistant Superintendent positions at both Box Hill Golf Club and Blackwood Golf Club, Brenton's passion for his trade has seen him perfect his skills at Melbourne's sandbelt clubs including Kingston Heath and Royal Melbourne and abroad at Royal Automotive Golf Club in London and Scotland's Albatross Golf Resort.
Currently studying his Bachelor of Agriculture, Brenton is passionate about the sports turf industry and looks forward to raising the benchmark in both presentation and performance at Warrnambool as the club prepares to implement its strategic objectives and new Course Master Plan over the coming years.
Exciting times
Club Manager, Ashlee Scott, says it's an exciting time for the club as we welcome Brenton to the team.
"The club is fortunate to have had significant interest in this position and Brenton was a stand-out amongst the applicants. Not only does he have strong experience in turf management and course construction, but his passion for horticulture, course presentation and performance will be of great benefit to our team and the club."
"I have no doubt that under Brenton's guidance, our grounds team will continue to deliver a superior quality golf course that our member's and visitors will benefit from greatly," said Ms Scott.
Source: Warrnambool Golf Club
Related Articles:
Golf club members to decide if 42 building block development should go ahead