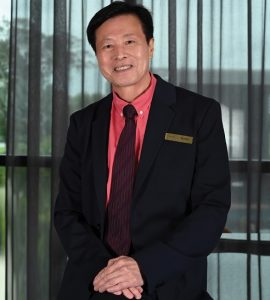 More than 16 years after leaving the post he held for the best part of a decade, Peter Goh has returned to Laguna National Golf Resort Club for a second stint as General Manager.
"No stranger to our Club, Peter served Laguna National as General Manager from 1995 to 2005," said a statement from the 36-hole Singapore club that is a Facility Member of the Asian Golf Industry Federation.
"With his wealth of knowledge and experience in club operations, we are certain that he will bring about positive changes and enhancements to our Resort Club," added the statement.
From June 1995 through to December 2002, Goh acted as General Manager, helping to establish Laguna National among the elite golf and country clubs in Singapore and Southeast Asia.
Raising the profile of the Club
In recognition of his contributions, Goh was promoted to Managing Director at the start of 2003, a position he held until July 2005.
Goh said: "I enjoyed a wonderful 10 years at Laguna National, during which we achieved a tremendous amount and succeeded in raising the profile of the Club as one of the prime venues in the region for staging professional golf events.
"I have always had tremendous admiration for Chairman Peter Kwee and his long-term vision. The innovation and progress that's been made in recent years with the redevelopment of the courses, the building of a new clubhouse and the opening of the Dusit Thani Laguna Singapore is remarkable.
"To have been able to complete all of this in the midst of a global pandemic is astounding. The facilities at Laguna National are truly world-class and are testament to all the effort and planning that has been made over numerous years.
"I look forward to developing a strong working relationship with the talented management team that is currently in place. We have so much to look forward to in the coming months and years."
Goh's Background
Goh has been in the service industry since 1979, starting with Singapore Airlines as Station Manager, and has spent the past 38 years as a senior club manager and club professional, predominantly devoted to the golf club and club industry.
Since serving as Location Manager at Singapore Island Country Club from 1983 to 1990, Goh has acted as General Manager at Jurong Country Club, Orchid Country Club, The Pines, Aranda Country Club and the Chinese Swimming Club, as well as Laguna National.
Additionally, he's Past Chairman of the Asian Club Managers Conference, and Past President of the Club Managers Association of Singapore and Loughborough University Alumni Singapore.
Meanwhile, Laguna National has appointed Mark Isley to the role of Golf Course and Agronomy, General Manager.
"He will play a pivotal role in ensuring the excellent maintenance of the club's two championship-calibre 18-hole courses. He will also be responsible for preparing the golf courses for major golf tournaments, consolidating that momentum and driving and delivering further improvements in course conditioning and international recognition of Laguna National," said the statement.
As Director of Golf, Mark Bates will be overseeing planning, development and overall operations of Laguna Practice, Leadbetter Golf Academy, major golf tournaments and other special projects.
Source: agif
Source: