The interest in playing golf has been on the rebound during the challenges of the pandemic due to it remaining an accessible sport for most states. Over the past 18 months several reports have indicated what the industry so long have hoped for; people falling back in love with the sport. Thus, for the first time in 21 years, Australian golf club membership has been back on the rise, as well as increased general rounds numbers.
However, while clubs are relishing the increased player rounds and rises in club membership numbers, this surge has now placed a firmer focus on playing conditions and added stress on maintenance programs. Many clubs are also facing job shortages for greens staff who lack the knowledge, skills, to address course maintenance issues and provide the level of course standard required by the increased demand. On top of that financing the right machinery must be addressed.
Club boards and managers, meet Golf Course Solutions – a one-stop-shop for your course maintenance and management needs.
Golf Course Solutions who?
Golf Course Solutions (GCS) is the golf course management division of Landscape Solutions and specialises in delivering complete course management options for golf courses to run at optimum efficiency.
The company has been operating in Australia since 1993, and the 27+ years of industry experience in commercial landscaping has enabled the company to develop smart, efficient, and cost-saving delivery methods benefitting any turf business, in whichever market.
The company's aim is to help clients deliver a consistent and quality course for their members and guests and for the course to run to on optimum efficiency. To do so GCS provides a wide range of course and management related services, which can be tailored to suit any club or facility's needs:
Golf Course maintenance
Golf course construction
Course Upgrade & Turf Renovations
Irrigation And water management
Horticultural Works
Environmental Rehabilitation

But why outsource when you can hire in-house?
With many clubs still reeling from the financial impact of the pandemic, and with maintenance costs steadily on the rise, staffing shortages, many clubs are at crossroads when it comes to the most cost-effective way to maintain their course at the best possible conditions for members and guests.
Managers and boards are faced with a decision:
Is the traditional in-house golf course maintenance model still preferable, or is it more cost-effective to outsource?
When outsourcing to Golf Course Solutions, clubs have access to a bigger organisation which has superior purchasing power for goods and equipment, and they can draw upon a wide team of experts such as landscape architects and arborists, whose knowledge and experience can be utilised if required. Our team of professionals have extensive experience in all the maintenance, renovation, and construction aspects of a golf course.
So, instead of driving club boards and managers mad trying to hire competent green staff which includes ongoing staff wages, insurances, long service and annual leave, superannuation, workers' compensation, and training, GCS takes care of everything.
By enlisting your course maintenance to a specialist company like GCS, managers can focus on the income generating areas of the club and looking after member needs, whilst still knowing the course is getting superior care. The experience GCS has in the industry also shows that outsourcing minimises risks, results in happier members and players, and lead to increase profitability.
Thus, outsourcing course maintenance is the economically, smart, efficient, and effective decision for any golf club.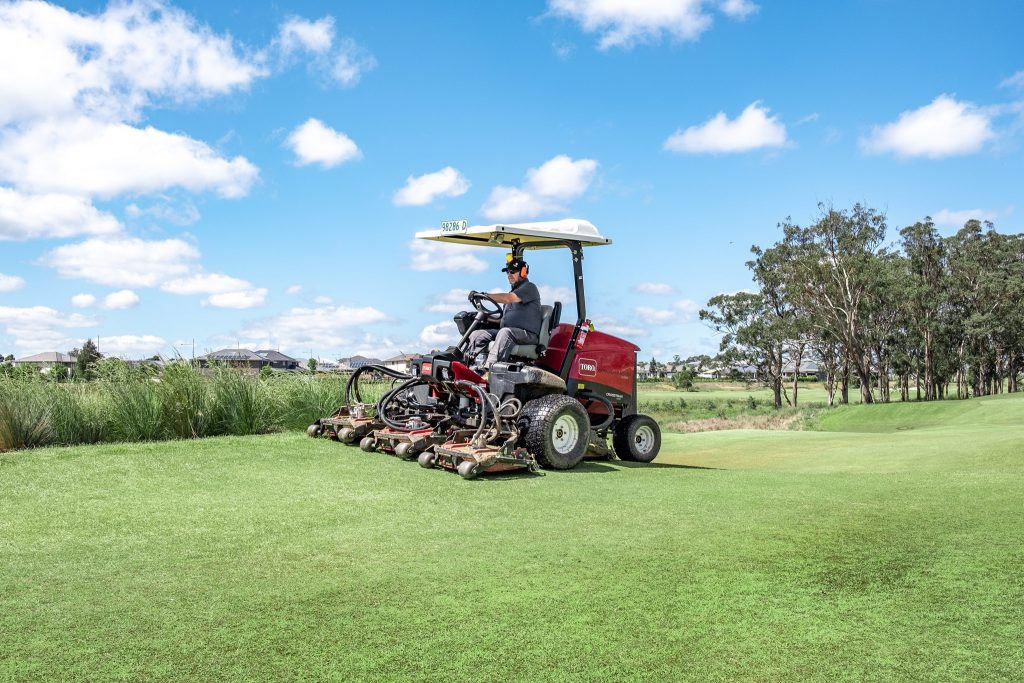 But why Golf Course Solutions?
Golf course maintenance and management is becoming a saturated market, so why are we a leader in the Australian golf course industry? Because we start work on every course by first understanding our client, and then developing a clear strategy to work together as partners.
We look at aspects you may be finding a challenge and areas you would like us to pay particular attention to. It is this due diligence early on that enables us to meet our customers' needs and expectations later. Assessing where your course is now and where you would like it to go, we collaboratively develop a golf course management plan that will achieve the best outcome for you. Our 'success' checklist enables us to determine a clear understanding of your desired outcomes. We'll then look at the strategies we can implement to ensure you see a vast improvement in presentation.
We will proactively implement continuous improvement programs and works in conjunction with club management. This can include anything from bunker improvement programs to tee reinstatement projects. Our longevity and scale enable us to provide our partners with several options others in the industry simply cannot. We pride ourselves on the level of quality we deliver for our clients and our Third-Party Accreditation provides you with a high degree of comfort in knowing you can depend on us.
Your success is our success, and we treat every course as though it were our own.
Want to find out more?
We'd love to chat about the potential of working with your golf club or facility. Talk to one of our commercial golf course specialists to get started.
For a free e-guide click here.
Give us a call to speak directly to a member of our team on 1300 014 653 or email info@golfcoursesolutions.com.au. For more information, visit www.golfcoursesolutions.com.au.