The Ranfurlie Golf Club has opened its brand new, state of the art Driving Range which sits alongside and operates in conjunction with the highly ranked Ranfurlie Golf Course located in Cranbourne, Victoria.
The Range's Opening took place last week to much fanfare including a live Broadcast by SEN Radio station and then a DJ churning out some tunes to a large crowd, most of whom had never been to the venue before.
A forward thinking Ranfurlie Board has been extremely supportive throughout the development process after they set the ball rolling by endorsing the plans to build a fully licensed golf and entertainment facility. The primary objective was to develop an atmosphere that was attractive to both the novice and diehard golfer alike, whilst also promoting a venue that was inclusive and welcoming of patrons that don't regularly play golf.
After 18 months of careful planning and execution, the result is a unique public golf center featuring 20 bays, all of which are licensed and have live sport and entertainment playing day and night. The center also includes four unique 'Premium Bays', a practice putting green with a mixture of standard and larger holes as well as an indoor/outdoor golf academy with highly skilled coaches utilising the latest technology in golf tuition.
A separate member lounge and large balcony that overlooks the course and the city skyline has been provided for those members wishing to retain a sense of tradition as well as peace and quiet in which to reflect on their recent game on a first-class golf course.
Golf Services Management, the Ranfurlie Golf Club's Corporate Manager has facilitated the project on behalf of the Board with Ian Denny and Scott Eduati overseeing all aspects of the development.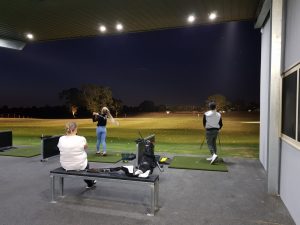 Denny quoted
"The club is striving to provide its existing members with something special while also attracting a new and younger demographic to the venue whether they be golfers or just want to socially enjoy the facilities.
The design of the separate entrance to the range and sports bar builds the feeling of a relaxed and fun atmosphere upon arrival, a feeling seldom experienced at a golf course.
The number of young members that have already joined is incredible.
Ian, Scott and their team are now working on implementing stage 2 which includes auto tee up and ball flight technology within the bays and 5 target greens with colored lights providing something different for evening use.
For more details visit www.ranfurlie.com.au.