Clubs and facilities around the nation will throw open their doors throughout October to offer a wide variety of activities and promotions to inspire people to play golf. So whether you are a newcomer, a lapsed golfer or simply want to try a new facility …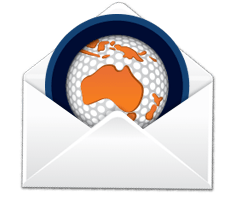 Please enter your details:
I am interested in:
News
Operations
Marketing
Recruitment / Jobs
Grow the Game
THE Gold Coast's newest major sporting facility is not a Commonwealth Games venue – but it is right across...
Australian businessman and golf ball developer  Wayne Bosley "the Boz from Oz" of Vision Golf – Australia shared a...
Kuala Lumpur, Malaysia: United States-based golf course builder Heritage Links has formed a joint-venture with Malaysia golf services company...
Johor Bahru, Malaysia: Ernie Els has hailed the unveiling of The Els Club Desaru Coast – The Ocean, Southeast...
Improve Your Long Game is a campaign encouraging NSW golfers to use sun protection and reduce their risk of...
  PEREGIAN SPRINGS Golf Club, the jewel in the Sunshine Coast developments' crown, is on the brink as liquidators...