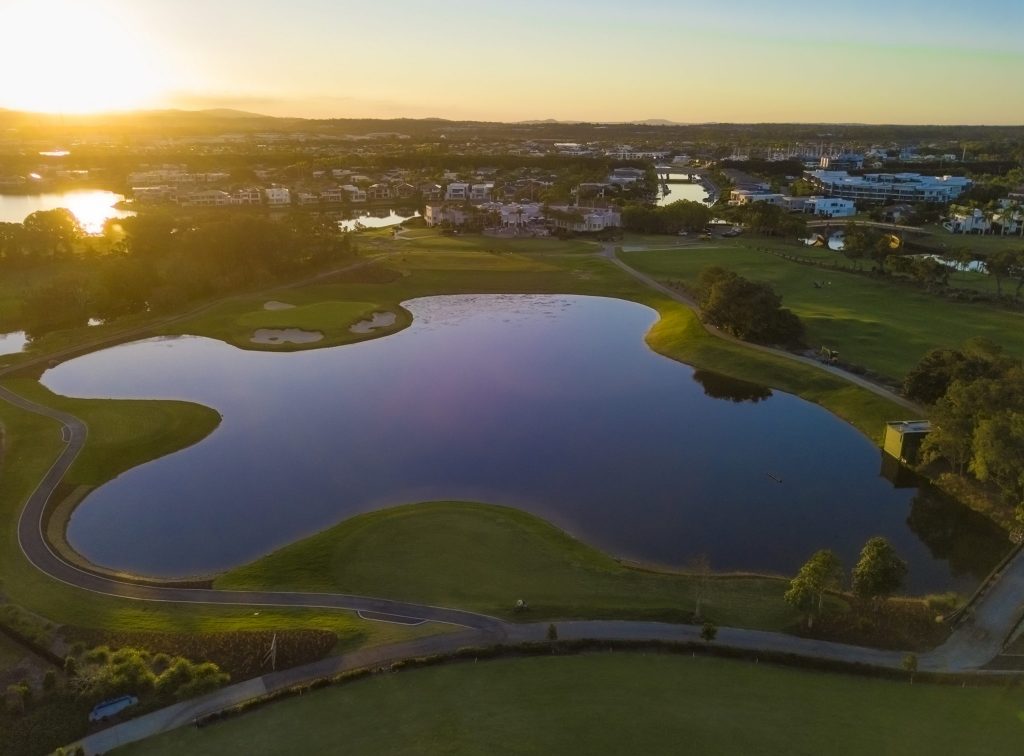 Tee off across the lake to the elevated peninsula green with stunning views of the iconic Mediterranean clubhouse setting the dramatic backdrop…
That's the narrative of Links Hope Island's daring 9th hole which opened last year. The innovative design and execution of the hole have deemed it"a must play" course for any avid golfer, which was part of a $2.3M upgrade to the golfing facilities at Links this year.
The capable construction company behind this perfect, yet cheeky par 3 at one of the Gold Coast's most premier courses is Golf Spectrum, which is now expanding its golf course construction services to an all-encompassing model, from conception to creation.
About Golf Spectrum
Golf Spectrum Pty Ltd is an established golf course and civil construction company offering comprehensive golf course construction, golf course excavation, detailed excavations, and earthworks services.
The company's aim is to assist in creating and building clients' golf course vision, leaving no stone unturned in creating a product of a high standard and quality for your members and guests to enjoy.
Since its conception in 2014, Golf Spectrum has earned an outstanding reputation in the industry and the company has worked with some of the most prolific golf courses all across Australia, including Concord Golf Club, Bayview Golf Club, Pennant Hills Golf Club and Links Hope Island.
"Past projects are a great source of pride and satisfaction for us, and we are confident that we can fully deliver on any creative vision to achieve a quality outcome," explains owner and Director Nathan Bradbery.
"We understand the need to protect creative intent and respect to the game, while also ensuring maximum accessibility of the project once completed."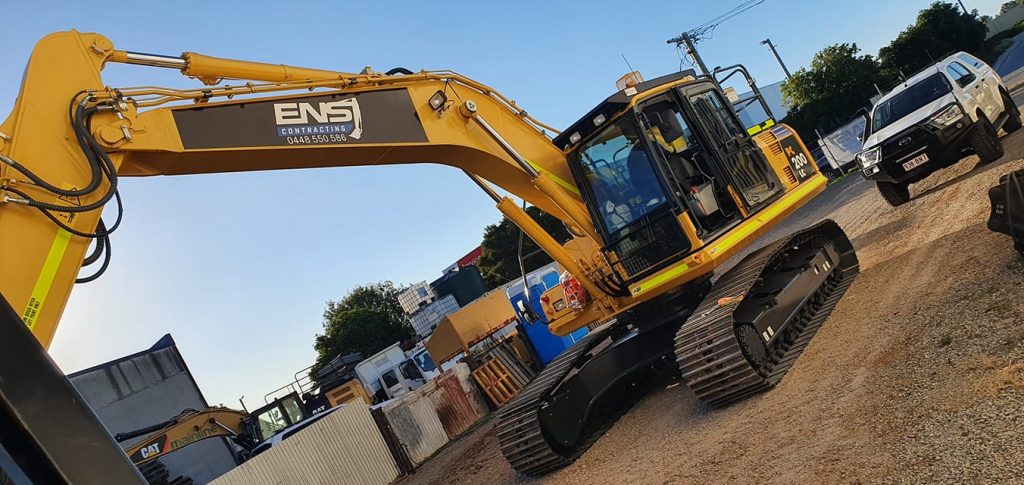 Just like its director, Golf Spectrum is fresh golf and civil construction company in the market, which has quickly earned a reputation of hard work along with a strong love and passion for the industry.
"Our ambition is to continue building our client base for golf course construction by providing uncompromising quality, creativity, and technical expertise".
With locations all throughout Australia, from Sydney, Melbourne and now in Brisbane, and everywhere in between, the company is now expanding its fleet and is able to travel all throughout the CBDs and beyond for any sized undertaking or long-term project.
Golf Spectrum's Services
Starting off as an exclusive golf course construction and golf course excavation company, the company has in more recent years broadened the scope to detailed excavation, bulk earthworks and plant hire.
This enables the company to handle any project from start to finish, without the need to outsource any part of the construction.
The wide range of plant hire helps the company complete services including bulk earthworks, retaining wall construction, drainage, earthmoving and more. No need to wait on an operator, Golf Spectrum provides both machine and operator to you, hand-picked from only the best in the business.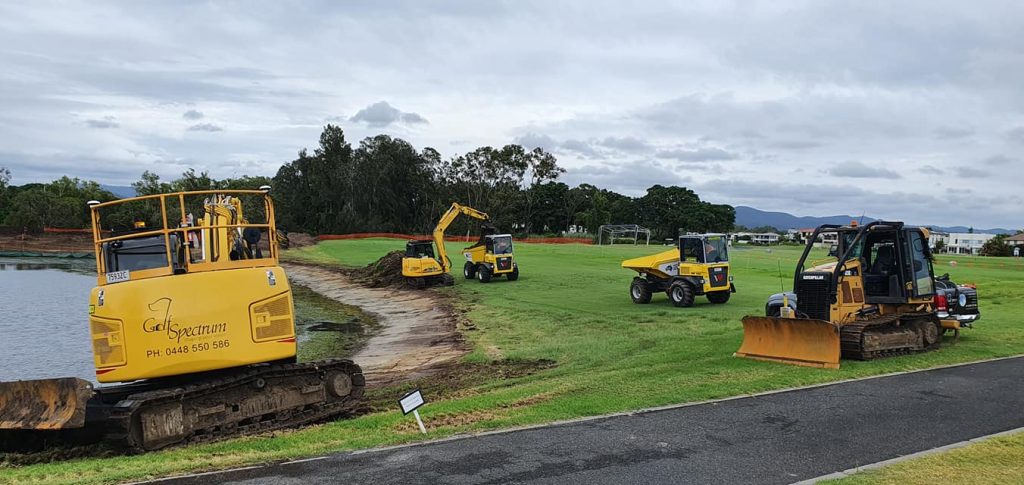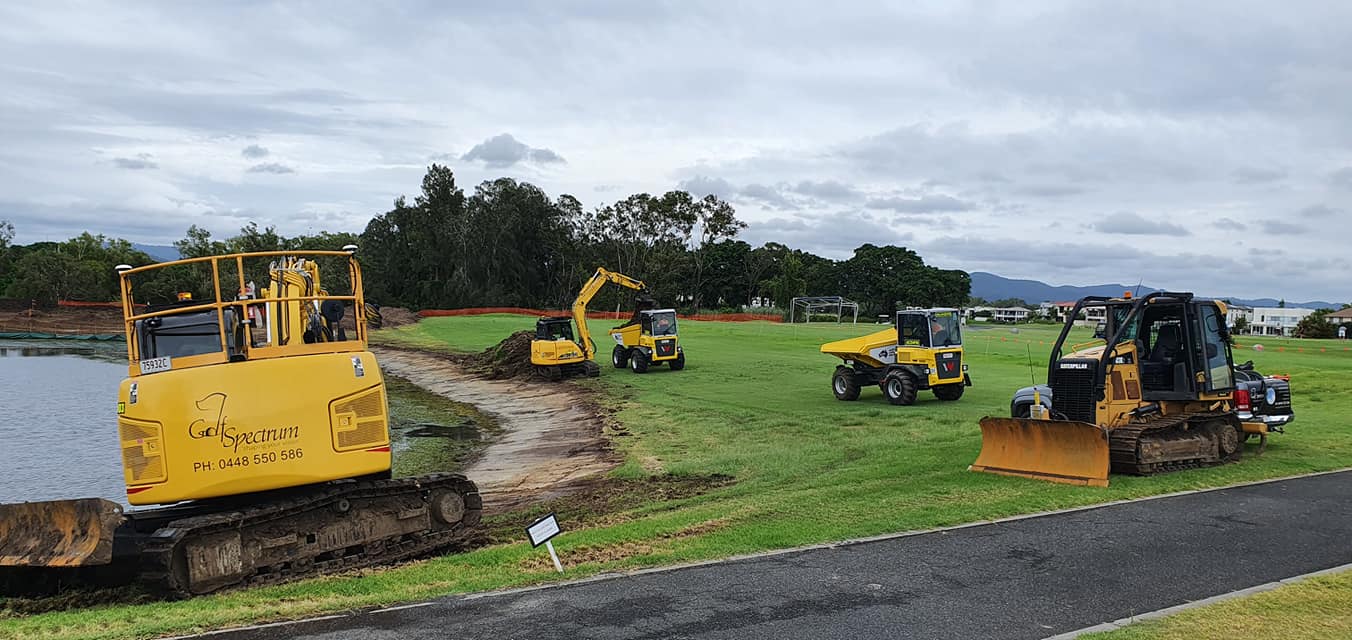 "Golf Spectrum really does provide 'the full spectrum of golf course services and we are happy to complete any or all of these services. No matter how large or small your course is, we are more than happy to utilise our creative expertise and technical prowess to realise your envisioned course," says Nathan.
"Whether it be our top-quality golf course maintenance, bulk earthworks, detail excavation or civil excavation we are committed to placing the highest priority on the safety of the project, environmental management and compliance with all laws and industry regulations, consistently"
"We pride ourselves on being able to provide sustainable, affordable solutions to complex construction problems."
Contact Golf Spectrum for a free quote
At Golf Spectrum, we relish the opportunity to utilise the wealth of knowledge and experiences gained during our history to serve you in all your golf course construction and civil excavation needs.
Call us now for a free consultation and quote.
For more info, please visit www.golfspectrum.com.au or email info@golfspectrum.net 
We love doing crazy things here at Golf Spectrum and for a limited time, your chance to enhance your course for a discounted price. Contact us today for all the details.