A massive blaze Thursday caused "extensive" damage to the Oakland Hills Country Club, complicating the future of an ornate and historic facility that has been host to major national golf championships.
People in the clubhouse alerted firefighters to the smell of smoke at 9:17 a.m., Bloomfield Township Fire Chief John LeRoy said. Firefighters used thermal imaging cameras and drilled inspection holes in the ceiling to find flames in the attic. It was difficult to find the cause of the smell in such a large building, LeRoy said. The clubhouse is 110,000 square feet.
The stately clubhouse was engulfed by mid-morning in a blaze of spectacular size. The fire lost some strength by mid-afternoon, but by 6:20 p.m. had grown again on the south end of the building.
LeRoy praised firefighters for their efforts to salvage some of the historic pieces while also fighting to contain the blaze, The News reported.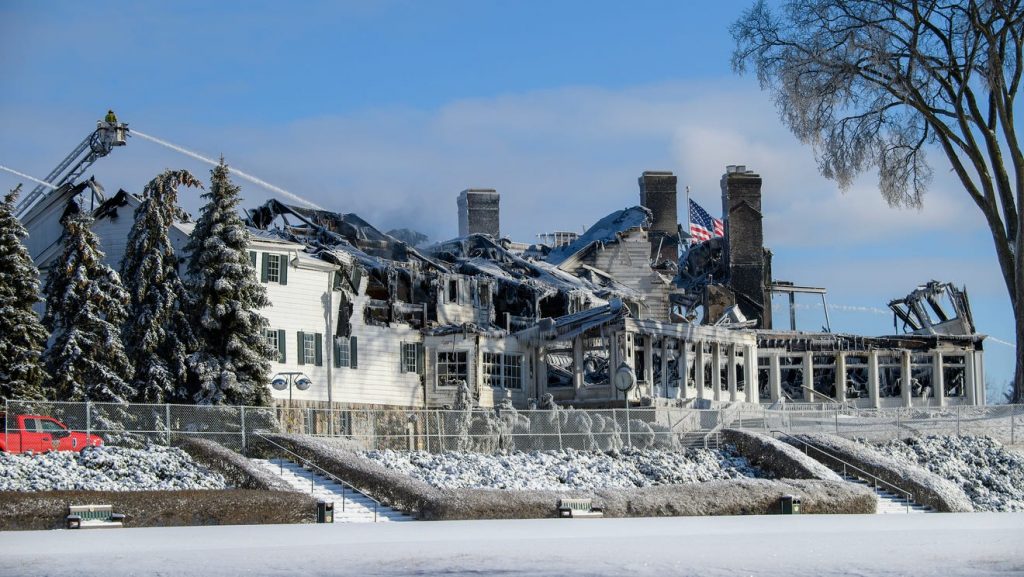 "We had some mutual-aid crews that were instructed where the things were, since [the fire] was in the attic at the time," LeRoy said. "They were able to get to locations they could get to quickly, pull that memorabilia out and hand it to the club members at the front door and go back in."
At the end of the day, however, it remained unclear how much had been salvaged, and how much damage the clubhouse had sustained, The News reported. Firefighters were using aerial ladders to spray the clubhouse roof, and through much of the afternoon smoke billowed south for miles. LeRoy said he expected firefighters would continue fighting the blaze into Friday morning.
The Club
Oakland Hills, which has 36 holes including its most-famous South Course, had made significant renovations to its white, stately, pillared clubhouse throughout the years, including the most recent, in 1999, at a cost of $16.25 million, The News reported.
The club's South Course also recently underwent a significant restoration, costing more than $12 million, in the hopes of helping the club land more major championships in the future. That restoration, in part, removed dozens of trees, which allowed golfers to view the clubhouse from almost any point on the golf course. Members who lauded the views during the course's reopening in the summer of 2021 were mourning those same views as they heard of the fire.
Oakland Hills was recently awarded two U.S. Women's Opens, in 2031 and 2042, by the USGA. It also remains on the USGA's short list to be awarded another U.S. Open, for the first time since 1996.
It last hosted a professional major in 2008, with the PGA Championship, and it hosted the U.S. Amateur in 2016.
Read full story at Detroit News
More International News: