Walkinshaw Sports was named Business of the Month in Inside Golf's February edition.  
The Walkinshaw name has long been associated with automotive, but it is now also a household name in golf through Walkinshaw Sports, one of Australia's largest golf product distributors.
Walkinshaw Group was established in 1987 when founder and racing car driver Tom Walkinshaw established Holden Special Vehicles (HSV), which is now Australia's largest car manufacturer.
Walkinshaw Group have close to 500 staff and a group of companies who all operate independently. The Walkinshaw Group of companies include GMSV (formerly HSV), Walkinshaw Andretti Racing, Fusion Automotive, RAM, New Age Caravans and Walkinshaw Sports.
A decade of Walkinshaw
Walkinshaw Sports was established in October 2010 and is now celebrating 10 years in operation.
Whilst the company was successful in establishing a strong footprint across the golf industry through its first five years, there has been a significant shift in the business, after the recruitment of its current General Manager, Dan Harrap, in 2016. At that time, The Walkinshaw Group board commissioned a project to capture information and data, to support a business plan that would develop and transform its golf/sports business into a company that would be best described as a 'house of brands' for the Golf Sector.
Under Harrap's leadership, Walkinshaw Sports has now established one of the most impressive brand portfolios in golf, by targeting specific brands for growth in this region, utilising their scale and position of strength in the marketplace and through their turnkey sales and distribution infrastructure.
Significantly, in late 2017 Walkinshaw Sports became the golf distributor for global powerhouse Under Armour. Under Armour is fast becoming one of the largest global sports brands in the world and, specifically to the golf sector, it is growing very quickly. It is now one of the most popular golf brands in Australia with the brand available at over 330 golf clubs and at all major golf retailers.
Harrap describes securing Under Armour as a game changer for the company.
"Winning the Under Armour contract gave our business validation that we had reached a point in the business journey where we had built the right team and expertise to secure a global golf brand and introduce it to the Australian market with scale," Harrap says.
"The UK and USA teams at Under Armour watched our go to market execution closely and it was recognised back in Baltimore head office as "best in class" so from there we knew there was no limit to our capability to push forward."
My GolfSpy
In 2018, Walkinshaw Sports also secured the distribution rights for leading buggy brands Clicgear and Motocaddy. Clicgear is the number-one-selling push buggy at golf courses across Australia and Motocaddy was awarded the Most Wanted Electric Cart for 2020 by the global website My GolfSpy.
In addition to Under Armour, Clicgear and Motocaddy, Walkinshaw Sports also hosts an impressive portfolio which includes AFL & NRL Golf, Rovic, Cross Sportswear, Jofit, Nancy Lopez, Ray Cook and Daphne's Headcovers.
A cornerstone to the success of the business is also their vertically-owned golf brands under the Optima, PGF and Walkinshaw names where they hold a strong presence in the mass market sector in Australia and New Zealand with the likes of Rebel Sport and Big W.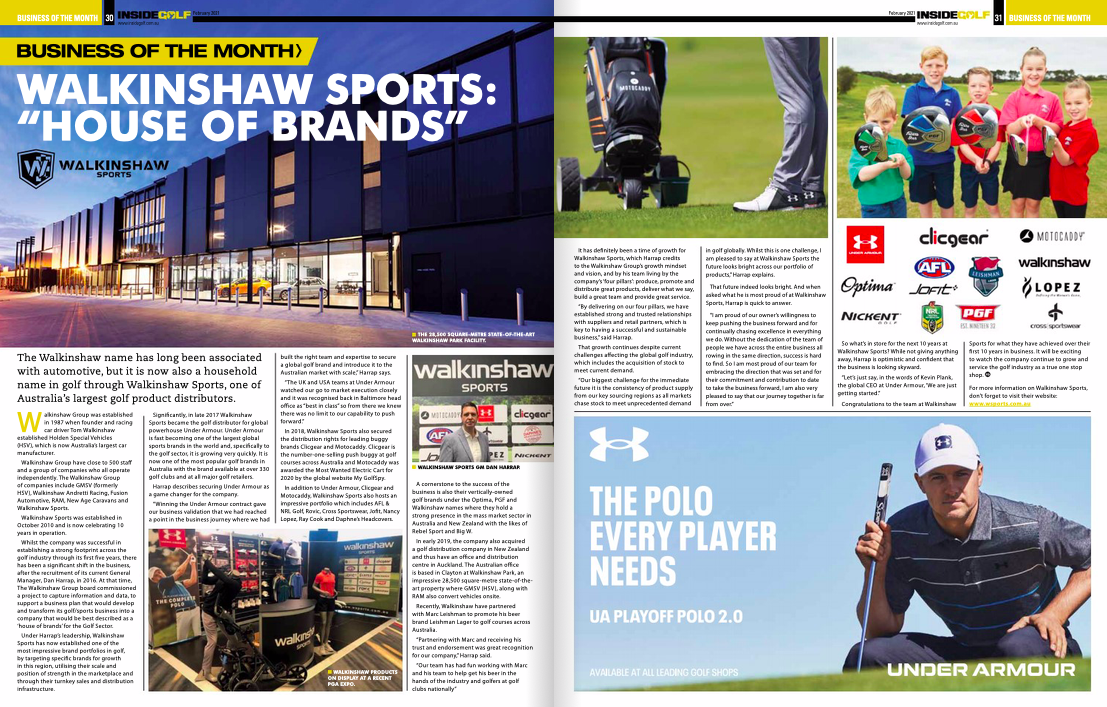 In early 2019, the company also acquired a golf distribution company in New Zealand and thus have an office and distribution centre in Auckland. The Australian office is based in Clayton at Walkinshaw Park, an impressive 28,500 square-metre state-of-theart property where GMSV (HSV), along with RAM also convert vehicles onsite.
Recently, Walkinshaw have partnered with Marc Leishman to promote his beer brand Leishman Lager to golf courses across Australia.
"Partnering with Marc and receiving his trust and endorsement was great recognition for our company," Harrap said.
"Our team has had fun working with Marc and his team to help get his beer in the hands of the industry and golfers at golf clubs nationally".
Four pillars
It has definitely been a time of growth for Walkinshaw Sports, which Harrap credits to the Walkinshaw Group's growth mindset and vision, and by his team living by the company's 'four pillars': produce, promote and distribute great products, deliver what we say, build a great team and provide great service.
"By delivering on our four pillars, we have established strong and trusted relationships with suppliers and retail partners, which is key to having a successful and sustainable business," said Harrap.
That growth continues despite current challenges affecting the global golf industry, which includes the acquisition of stock to meet current demand.
"Our biggest challenge for the immediate future it is the consistency of product supply from our key sourcing regions as all markets chase stock to meet unprecedented demand in golf globally. Whilst this is one challenge, I am pleased to say at Walkinshaw Sports the future looks bright across our portfolio of products," Harrap explains.
That future indeed looks bright. And when asked what he is most proud of at Walkinshaw Sports, Harrap is quick to answer.
"I am proud of our owner's willingness to keep pushing the business forward and for continually chasing excellence in everything we do. Without the dedication of the team of people we have across the entire business all rowing in the same direction, success is hard to find. So I am most proud of our team for embracing the direction that was set and for their commitment and contribution to date to take the business forward, I am also very pleased to say that our journey together is far from over."
So what's in store for the next 10 years at Walkinshaw Sports? While not giving anything away, Harrap is optimistic and confident that the business is looking skyward.
"Let's just say, in the words of Kevin Plank, the global CEO at Under Armour, 'We are just getting started."
Congratulations to the team at Walkinshaw Sports for what they have achieved over their first 10 years in business. It will be exciting to watch the company continue to grow and service the golf industry as a true one stop shop.
Related Articles: