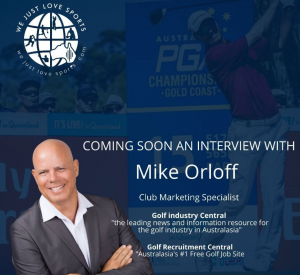 Recently,  Club Marketing Specialist Mike Orloff was invited to guest on the podcast We Just Love Sports, a forum for everyone who has a passion for sports.
In what was the first of the podcast's industry interviews with host Peter George, Mike discusses his role in the Australian golf industry as well as his take on the future of golf after Covid-19 .
As much of the conversation surrounds golf's privileged position compared to other sports in the current climate, Mike explains the role of marketing coming out of Covid-19.
Soaring participation
With the recent spike in memberships and rounds played, Mike believes it is not the time to become complacent and instead find new ways of connecting with the new members as well as learning how to retain them.
Read more: Rounds are booming – the future is in your hands – What next?
The conversation also tackled the hurdles of 2020 in the world of golf with many major tournaments postponed and its effect on the game, and also what 2021 may bring.
This interview is for all that love golf. Click here to listen.
To stay on top of the podcast visit wejustlovesports.com subscribe to the show and you won't miss a trick: Spotify & Apple Podcast
About We Just Love Sports
We Just Love Sports brings you sports news with a twist, where the voices are taken from the stands and get behind the microphone. The Podcast has all bases covered with interviews, news and a host of features. Don't forget to rate, review and subscribe to We Just Love Sports Podcast on iTunes, Google and follow us on Spotify.
We Just Love Sports was born for a passion of sport mainly AFL, NRL, Golf, Cricket and the ever-growing Darts. If you love your sport this is the place to be.
Facebook: https://www.facebook.com/WeJustLoveSport
Instagram: https://twitter.com/WeJustLoveSport
Twitter: https://twitter.com/WeJustLoveSport
More Mike's Space: