Optimise Environment, Health and Safety success for you and your business.
The golf industry is forever changing and the demand for knowledgeable staff in areas of environmental, health, social, and governance issues has never been higher in any industry.
With this in mind, world-leading EHS experts epar has accepted the challenge to grow and recognise EHS skillsets through their recently launched Certified epar Connect Administrator (CECA) pathway program, created exclusively for their Connect 2.0 user Administrators.
The reality is, a great number of businesses today, golf and non-golf, is falling short with the adoption of approved EHS practices. To attain the shift needed, epar has now developed a six week intensive EHS skill builder and recognition program.
The new program is aimed at fast-tracking individuals with the needed onsite and administration EHS skillsets in today's workplace, and to provide candidates a much needed edge in the marketplace.
"Differentiating yourself from your peers is the challenge that every professional faces. This certification program gives you the clarity, process, and confidence to make yourself stand out in a crowded marketplace," says epar Managing Director Terry Muir.
Help protect people and places
The unsurpassed EHS management company and its innovative EHS solutions have assisted businesses to identify, foresee and manage health and safety risks since 2003, and continue to design and create new management systems to help minimise risks and concerns within the workforce.
"There's a land grab for good people right now with EHS systems administration skills because the day the world hoped would be here has arrived – the day everyone, absolutely everyone, became interested in protecting people and places,"
"Every business needs people that understand how to administrate the world of environment, the world of safety, the world of health and well-being, the world of systems, and the world of regulation."
The CECA Program
A first-of-its-kind at epar, the CECA certification program will provide recognition of your skills and achievements in using and implementing Connect 2.0.
The 6 week, self-paced, free and flexible program will help Administrators to drive efforts within a company to:
Coordinate and administer EHS;
Move the company from spreadsheets to systems;
Move from paper to the Cloud; and
Move the company from doing less harm to doing more good.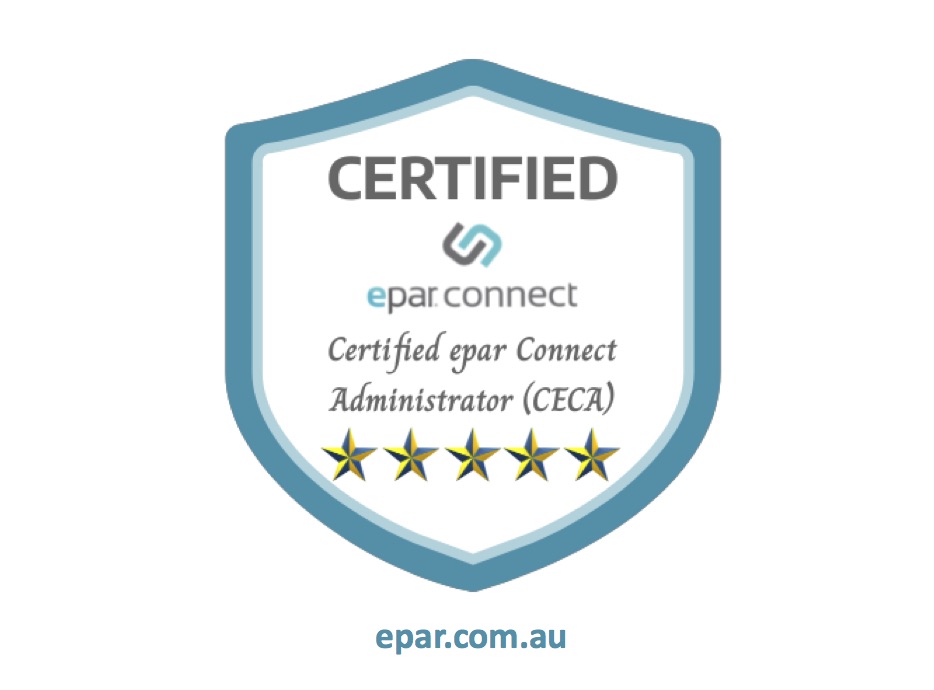 You will earn 10 badges in all before your 5 Star Certified epar Connect Administrator CECA accreditation is awarded. Your recognised and awarded ability to connect the dots to make people, communities, and ecosystems safer is CV worthy in today's marketplace.
By completing this free training course, epar will provide evidence your staff understands the theory and practice of EHS systems and equipment. As a manager, you will have peace of mind that only trained staff are using your equipment. Plus, it's all paperless and it's free.
Enjoy a personalised, people-friendly online learning experience that is a flexible but structured approach as you plan your Certification around your work and life commitments.
The EHS journey for your club won't be accomplice unless you start it and no one wants to leave it until it's too late. With epar you can build your company's EHS system as you go. Win-Win!
To find out more about the CECA program, epar Connect and epar Connect 2.0, please visit www.epar.com.au OR contact at info@epar.com.au.
epar Certification & CPD Points
Is your CV letting you down? A common theme in all recent job ads is the need for environment, safety, training, and OHS skills. Below is a screen shot from recent advertised jobs that highlights an important point – EHS talent and skills matter and they are a must-have on every CV.
epar's new Certification program can help get you and your CV ahead of the pack. Instead of getting lost in the crowd, you will maximise your chances of success and gain valuable CPD points at the same time.
We will help, guide and mentor you through the build of your epar EHS system and reward you with digital CV worthy badges as you progress. Not only will your CECA certification be CV worthy, you will also gain valuable CPD points.
The epar management team has commenced reaching out to our Connect 2.0 users with a view to commencing the program in 2 weeks. Places are already filling up fast and we look forward to sharing more details of the program next week. If you would like to find out more or register, call Terry on 0412 294 514 or send an email to info@epar.com.au.
ABOUT epar
epar is a team of EHS experts who can provide your business with a complete EHS management solution.
epar has managed and revolutionised the complex world of environment and safety management since 2003, and are unique in the level of advanced research and development relating specifically to a sustainable workplace.
The company has quickly become a leading provider of EHS management solutions within Australia and internationally, with an experienced team who are passionate about ensuring businesses understand their legal responsibilities and are practically achieving their goals.
At epar it starts with the best team and the best compliance materials and carries through to the best software and document design and better delivery methods – all with the philosophy that their customers deserve the best.
Because every golf business has the potential for greatness.