Just like in any other business or organisation, golf clubs and facilities' performance outcome is heavily reliant on its governance structure and organisational efficiency.
This is the core of how the institution makes decisions and determines the means of optimising and monitoring performance, including how risk and hazards are monitored and assessed.
International leaders in this space,  epar, has therefore used the latest in technology and online service to provide a robust and compelling EHS (Environment, Health & Safety) management solution.
epar Connect 2.0 was created for golf clubs and facilities that want a dramatic shift in how time is spent, how communication happens, and how their teams manage their productivity, compliance and sustainability.
epar Connect 2.0 recently launched and available now
The epar Connect app is built to become a clubs' central application for compliance. It is a carefully crafted digital ecosystem created to solve important environment, safety and sustainability problems. All your compliance and sustainability communications are instantly searchable, available wherever you go.
Effectively, epar Connect was designed for entities that want a centralised and consistent EHS management program across multiple sites or facilities.
Whether you manage just one site or over 100 sites, epar Connect provides you with simple and intuitive tools to get the job done!
The powerful decision support tools will help companies meet challenging EHS needs, to assist in assessing exactly where the risk factors are, with features including:
Contractor management
Document assignment
EHS anywhere anytime
Equipment assignment
Event EHS planning
Geospatial EHS
Mapping Incident management
Inspections linked to Risks
'Live Risk Register'
Map your hazards
Powerful EHS analytics
Secure and scalable
Tasks assigned and tracked
Track chemical applications
Training Academy
On line Safety Data Sheets
What the leading EHS company has created isn't just an app, but a reduction in information overload, relief from stress, and a new ability to extract the enormous value of hitherto useless corporate archives, contributing to better organisations, better teams.
The innovation also permits for General Managers and Supers to assign training programs to staff and track their training and competency. It allows you to access and add a variety of hazard and incident response tasks, and with the addition of a new ALERT function, General Managers or Superintendents are able to send immediate hazard alerts or send compliance tips daily to their staff members.
From the field you can add:
Hazards
Incidents
Assign General Tasks to staff
Set Inspections
Track inspections
Conduct Site Inspections
Host Toolbox Talk/Stand-Up Meetings
Do a competency assessment
Access Safety Data Sheets
Complete Spray Applications Sheets
Induct Staff
Map Site Values/Natural Capital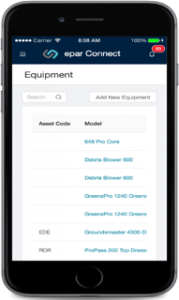 Taking advantage of this advanced technology, there will be changes in how team members relate to one another and, hopefully, significant changes in productivity and sustainability.
Buying into epar Connect is not buying into new software, it's buying into an organisational transformation.
Just as much as it's genuinely useful, something which really does make people's working lives simpler, and more productive, epar also understand what people think they want and have then translated the value of Connect into their terms.
The Equipment Database of your fleet will give you easy access to the Operator's Manual for all your equipment from epar's database and provide online training competency and quizzes for equipment use. The app also allows you to set your own quizzes and to track staff licenses and permits and competency to operate equipment, with automatic competency testing reminders
epar wants their clients to become relaxed, productive workers who have the confidence that comes from knowing that any bit of information, which might be valuable to them is only a search away.
Therefore, epar Connect provides and updates your own SDS (Safety Data Sheet) database which is linked to the Chemical Application App to track chemical use. With epar Connect, you will also be able to send SDS's to your staff and have them acknowledge understanding of the contents. All at your very fingertips.
Clubs and facilities using epar Connect will inevitably become masters of their own information and not overwhelmed, left feeling frustrated by a lack of visibility into what is going on with their team.
At epar it starts with the best team and the best compliance materials and carries through to the best software and document design and better delivery methods – all with the philosophy that their customers deserve the best.
Because every golf business has the potential for greatness.
About epar
epar is a team of EHS experts who can provide your business with a complete EHS management solution.
epar has managed and revolutionise the complex world of environment and safety management since 2003, and are unique in the level of advanced research and development relating specifically to a sustainable work place.
epar has quickly become a leading provider of EHS management solutions within Australia and internationally, with an experienced team who are passionate about ensuring businesses understand their legal responsibilities, and are practically achieving their goals.
To find out more about epar and epar Connect 2.0, please visit www.epar.com.au or eparconnect.com, OR contact Terry Muir on terry@epar.com.au.