Wallacia golf course could be no more as early as next year with Catholic Metropolitan Cemeteries Trust set to acquire the 44 hectare site.
Currently branded Panthers Wallacia, the golf club and course has become the latest target for a cemetery, as demand for burial sites in Sydney continues to grow.
And while club members, Councillors and nearby residents are set to fight the plan, sources tell the Weekender their efforts are likely to be fruitless.
On Monday night, Penrith Council unanimously voted to support a planning proposal that prohibits the development of cemeteries and crematoriums in the Mulgoa Valley and Wallacia areas by making amendments to Penrith's Local Environmental Plan.
Councillors Bernard Bratusa, Ross Fowler and Marcus Cornish passionately spoke at the meeting to protect Mulgoa and Wallacia, and were met with applause from community members that filled the chambers.
A member of the Wallacia club since the early 1990s, Cr Bratusa fought back tears as he spoke against the possible development of the golf club site into a cemetery.
"Fernhill and Wallacia were never ever meant to be cemeteries, and it will undoubtedly be a scar," he said.
"This is an emotional roller coaster. For a lot of people it was completely unexpected and I'm not looking to point fingers of blame, I'm looking to find a positive resolution for the region."
The Wallacia site was sold to property developer Lou Zivanovic in 2014, who then leased the golf club back to Panthers.
That lease is up at the end of February, and Panthers will not be given the opportunity to renew it. Financial issues have plagued the Wallacia club for some time.
Dennis Gallagher, the longest serving consecutive member of Wallacia Golf Club, is incredibly saddened by the prospective developments.
"I don't want to go and play golf anywhere else, I've got mates out there and we all joined at the same time and we all still play together," Mr Gallagher said.
"We represented the club when we were 15 and we're still representing the club in our 70s."
He believes the golf club affects more than just golfers as it sits opposite the Regal Oaks retirement village.
"I'm concerned about the whole community who bought in there knowing that the golf course was right there," he said.
"They use the site for community events, you have people who cross the road to play Bingo every week that won't be able to."
Mr Zivanovic was unable to be reached for comment, but it is understood he will meet with members of the golf club in two weeks.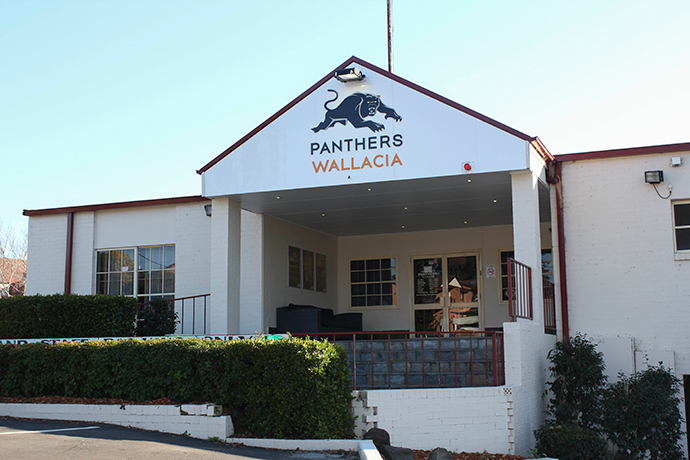 Catholic Metropolitan Cemeteries Trust confirmed on Wednesday it has obtained NSW government consent for the acquisition of the Wallacia Golf Course with plans to create 60,000 burial spaces over the next 50 years.
The acquisition follows research by leading town planning group Urbis, which predicts that burial sites in western Sydney will be exhausted within 28 years, with burials continuing to comprise 30 per cent of internments in NSW.
"We will be providing to all communities much needed burial space at affordable prices in a landscaped setting, mitigating the exhaustion of existing burial sites at our Liverpool and Kemps Creek Cemeteries, over the next five years," CEO for Catholic Cemeteries & Crematoria, Peter O'Meara said.
"We will engage with the Wallacia Golf Club members and Penrith Council in the near future and look to provide recreational facilities that can be utilised by all in the western Sydney community."
Cr Fowler said he was disappointed that the site would not remain a golf course.
Members are planning to remain vocal in an attempt to save the Wallacia club.
The latest developments at Wallacia follow Council's staunch opposition against a cemetery plan being put forward by Rookwood for the Fernhill site.