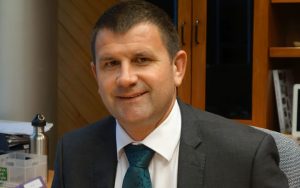 The New Plymouth mayor's flip-flop over a proposal to sell part of a coastal reserve – including the city's only municipal golf course – is complete.
At an extraordinary meeting of New Plymouth District Council today, Mayor Neil Holdom recommended the plan to carve up Peringa Reserve and the Fitzroy Golf Course be dropped from its long-term plan.
Mr Holdom apologised to the council and about 100 people in the public gallery for provoking an angry reaction from ratepayers and causing confusion and worry.
"Our approach could have been better and for those of you who were stressed or angered by our draft plans please accept my sincerest apologies," Mr Holdom said.
"We wanted to start a big conversation but we never wanted to cause anxiety or stress in the lives of our people but we did that and I was a leading driver of that and for that I am truly sorry."
The council adopted the mayor's recommendation to drop the land sale from the long-term plan along with plans to redevelop the city's indoor sports arena and aquatic centre
Mr Holdom had wanted to sell the reserve land to housing developers for $35 million.
Half of the money would have been used to fund upgrades to a "flagship" project such as the sports arena or aquatic centre, the rest was to go to establishing a council-owned property development company.
The proposal prompted a huge public reaction and more than 4000 public submissions were made to council's long-term plan – the most in the country – and the overwhelming majority were against the idea.
At today's meeting Craig Williamson – a leader of the Save the Fitzroy Golf Course and Public Recreational Reserve movement – also presented council with a petition against the land sale signed by more than 4000 people.
Mr Holdom said he had campaigned on the reserve land sale in 2016 and had listened to ratepayers and was happy to walk away from the idea.
"I did exactly what I said I would do. We took it out there and the feedback from the community was, 'yes, a lot of us would like projects but fundamentally we don't want to pay for them'," Mr Holdom said.
"So while I put out a position, that position was not reflected by the majority of our community and I believe it is the duty of this council to reflect the majority of the community's view.
"And I'm comfortable with turning around on this because I said I would when I brought it to the table."
But the council baulked at a proposal from councillor Shaun Biesiek to immediately begin negotiations with the Fitzroy Golf Club about renewing its lease.
Mr Biesiek said it was the least the council could do after the anxiety the club had been put through.
"What this does is give them certainty that the golf club will be going nowhere … and it's setting things right as well, and it's sending a clear message that we won't be selling any reserves that a golf club is on," Mr Biesiek said.
Mr Williamson said he was happy that the reserve land sale was dropped from the long-term plan but disappointed the negotiations on the golf club's lease had not been brought forward.
He was more damning of the long-term plan process.
"My God what a shambles. Honestly it was terrible. It was a shambles from start to finish. People weren't consulted, it seemed ad hoc," Mr Williamson said.
"It don't think that anybody sitting around that (council) table or in this building will be proud of the way it's panned out and hopefully lessons will be learned."
Mr Williamson said he did not accept that Mayor Holdom had campaigned on the reserve land sale issue in 2016.
"No, he didn't campaign on those issues. He campaigned on them in a by-election in 2015 which he lost. In 2016, he barely mentioned the reserve land and the golf course," he said.
"He may have a different recollection of that, but no he did not put that front and centre of his election campaign."