Earlier this week Golf Australia released their fifth golf participation report, authored by GBAS, presenting last year's figures and trends on membership, competition rounds, general participation and specific program participation.
The report includes data from the different states and territories and presents results from AusPlay and comparison trends with other sports. The findings from Ausplay included a total of 980,000 people who participated in golf in the 12-month period.
Unfavourable figures in regards to growth of the game shows a cumulative loss in total members of 3.4% over the past five-year period, which equates to an average decline of 0.7% per year.
The national golf club membership last year in Australia was 389,672  (a 1.1% decline from previous year), and was comprised of 80% male and 20% females.
Regional areas recorded an overall membership decline of 1.5% whilst metropolitan areas fell by 1.1%, with only Queensland and South Australia experienced a nett gain in membership numbers for the recorded period.
However, despite the seemingly discouraging numbers, golf still remains the most popular sport among adult in the country with 10.3 million competition rounds recorded last year.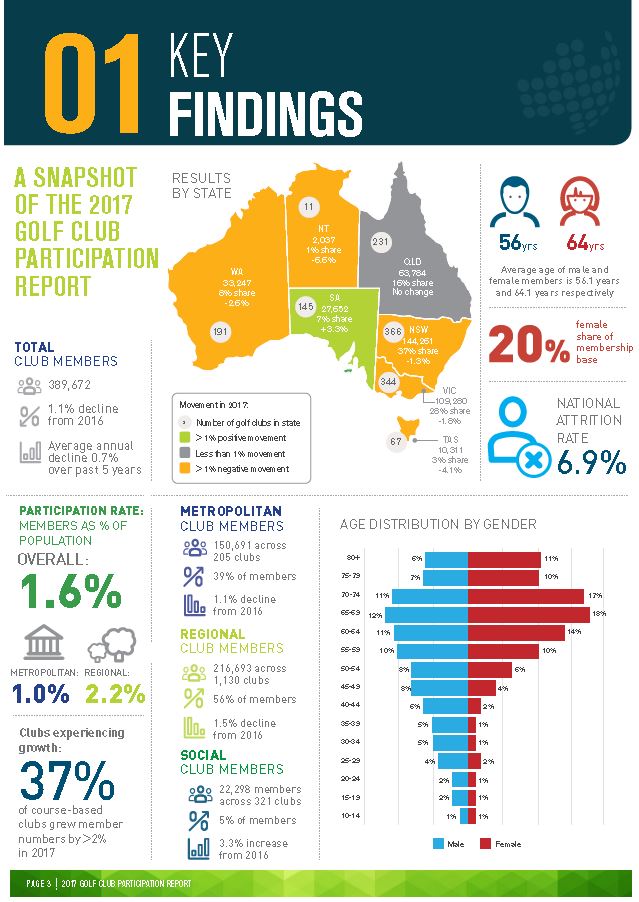 Click to view the snapshot document or the full report.
Source: Golf Australia