The Mornington Golf Club, the premier golf club on the Mornington Peninsula, held its second successful 64-1 event on Friday, 16th of February, with 80 eager players participating.
The event was held under near perfect conditions with a large group of  golfers all aiming to be the Par 3 Champion of Mornington for 2019.
The 10th tee was set up perfectly for the event and 150 players and spectators that came long enjoyed what was a fantastic evening of golf, fun, sledging, music and refreshments.
The event was mixed with 70 men and 10 ladies in attendance.
The player numbers went to 32 after round 1 and the ladies certainly did themselves proud with four making it through to Round 2. Excellent golfer Jude Quinn made it through all the way to the final 8. Well done ladies!
The event progressed and the final two combatants, Rod Farrington and Benny Smith, played off in the best of 3 final. Ben eventually came through victorious in the end.
Well done to both finalists for getting so far and a huge congratulations to the champion Ben Smith!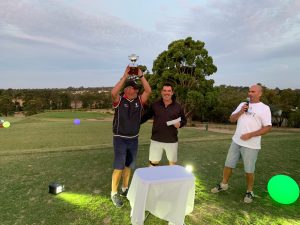 Last years' champion, Dave Fenwick, was on hand to present the trophy and the price money of $300 voucher to Ben. Craig Fitch won the NTP prize for the evening.
The club wants to give out a special thanks to the Master of Ceremonies for the evening, Erik "The Voice" Chess, for his efforts keeping the event running smoothly, and to sponsor of the event, Stuart from Bay Events.
The club is looking forward to next years event as it has plans to make it even bigger and better!
How good is golf at Mornington!
To find out more about future events at the Mornington Golf Club, please visit: www.morningtongolf.com.au