David Burton has announced his departure from NSW Golf Club after 24 years of dedicated service.
In an email to industry colleagues, David wrote, "It is with a heavy heart that after 24 years, I announce my decision to step away from golf club management."
After arriving in Australia in 1996, David commenced work at the NSW Golf Club, spending the greater part of his working life at the La Perouse facility, ultimately becoming the club's longest-serving manager. During his tenure, he oversaw the hosting of many professional and amateur events, and managed numerous facility upgrades, improvements and redevelopments, cementing the club's position as a world-class golfing venue.
NSW Golf Club President, Phil Banister, said to members in an official statement, "Since his appointment, David has worked with six Presidents and has managed the club through a number of successful projects including the course works, a new halfway house, works depot, dam, entranceway, 6th island bridge and most recently the new golf shop, teaching and storage facilities and clubhouse refurbishment."
"During David's time as General Manager, the Club has hosted a number of tournaments including Australian and NSW Amateur Championships, the ANZ Championship (with the European Tour), Australian PGA Championships and culminating in The Australian Open in 2009."
Banister continues, "David recounts that there were also the fires, floods and hosting of Prime Ministers, Presidents and sporting and entertainment stars from around the world in his time at the helm."
Whilst David insists this is not his farewell to those within the golf industry, he says that the coronavirus situation has allowed him to spend more time with family, which he notes, "I have enjoyed immensely," and has given him the opportunity to  reassess his priorities, saying, "I will be taking some time off to refresh my batteries before engaging in the next chapter of my career."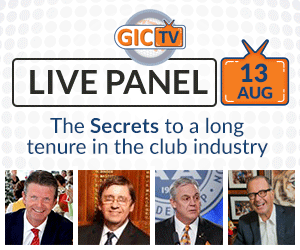 As always, David was very thankful to his industry colleagues, "I want to thank you all for the extraordinary time I have enjoyed spending with you in our complex world of club management. I consider myself lucky to be able to work with and share ideas with such talented people who spend their lives trying to enhance the lives of their staff and members." David goes on further, "There have been many laughs, many debates and many stories with you, all of which I cherish."
Banister concluded his official Club statement, saying "On behalf of the Board, members and his fellow staff I thank David for his significant contribution to the NSW Golf Club which he has served with loyalty, friendship and commitment over the past 24 years. We all wish David well for his future."  It is fair to say that those sentiments would be echoed loudly throughout the golf club management industry.
David will officially finish in his role on Saturday, 8th August, and is looking forward to "enjoying the privileges of being a member (of the NSW Golf Club), having a vote and enjoying the spectacular venue."
Click here for GMA Announcement
Click the link below to join David, Michael Leemhuis, Gregg Patterson on a live GICTV Q/A 13 August 10am Queensland time.
GICTV : "The secrets to a long tenure in the club industry"- (LIVE PANEL)