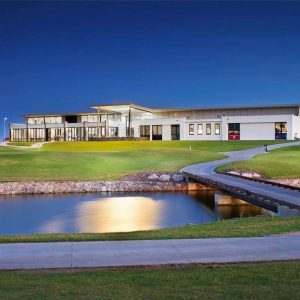 The Sunshine Coast may have a new tourist attraction in place for Christmas with Maroochy River Golf Club set to proceed with plans to tap into a booming pastime that plays to its strength.
Members voted on Tuesday night to expand its David Low Way facilities to include an 18-hole miniature golf course, estimated to cost up to $1.25 million followed by a nine-hole pitch and putt course and a par three nine-hole course.
A long-term vision would also build a 20-30 unit golfer accommodation complex.
The former Horton Park Golf Club relocated to its Graham Marsh design 18-hole championship course to make way for the SunCentral development.
Club president Michael Gray said the goal was not just the revenue but also to offer different entry point to the game and to allow members to retain a whole-of-life involvement with it.
What's proposed and which would now be the subject of a development application to Sunshine Council, was a sophisticated putting game for all age groups that bore only passing resemblance to the clowns and windmill old-style mini and crazy golf courses.
"We've got a great championship golf course, which is the premier course on the Sunshine Coast and getting better all the time," Mr Gray said.
"But it's not suited to all levels of play"
"We're striving to make the golf club a destination with a range of experiences around our core business which is golf".
Golf Coast-based golf course designer Richard Chamberlain said while played solely with a putter, the courses developed y his Mini Golf Creation business replicated the shapes and styles of a real golf course.
In the past two and a half years he's built five all of which he said were "making serious amounts of money". Mr Chamberlain said as well as attracting casual players the clubs were also running competitive leagues and tournaments.
What's proposed for Maroochy River was an 18-hole, 2500sq m of playing surface with the rest a landscape of babbling brooks creeks and other landscaping. Each hole would cover 60sqm and offer both risk and reward.
Source: Sunshine Coast Daily