Visionary, the developer of Silkari Avondale, near Wollongong in Illawarra, confirms it is on track to deliver an 18-hole Greg Norman-designed championship golf course.
The 18-hole golf course, part of a 562-hectare site, already has DA approval. Three holes are completed and two are currently under construction. A recent DA consent granted approval to a revised layout concerning four holes and a 99-lot land subdivision. The remaining nine holes are earmarked in the future stages of the development.
Silkari® Avondale already has DA for a 120-key hotel.
Michael Guo, Visionary CEO, commented, "Silkari Avondale is a long-term project. We are committed to delivering an 18-hole Greg Norman-designed golf course as part of a wider residential, hotel and recreational offering.
"We are absolutely thrilled to recently receive development approval for another stage in the project, which concerned the modification of four golf holes in addition to 99 land lot subdivisions.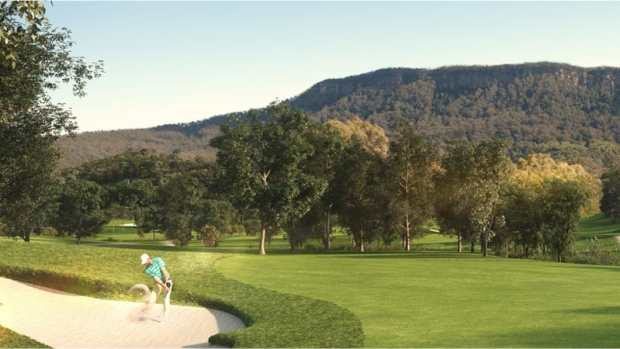 "We are committed to the Wollongong community and to delivering this catalyst for regeneration of the area through Silkari Avondale. The site is anticipated to stimulate new tourism activity as well as create local employment opportunities through the sustainable delivery of hotel, residential and recreational products and services.
"Visionary is determined to deliver a project that significantly contributes to local economic growth not just through employment opportunities, tourism and residences, but also food and beverage offerings, conference amenities and sports and recreational facilities.
"We will continue to work together with our local partners for the betterment of Wollongong."
Intended facilities for the entire site include a driving range, recreational centre complete with tennis court and pool, golf academy, Kids Club, Pro-Shop, health spas, conference facilities, hotel and residences.
Visionary's maiden hospitality product, Silkari Suites® at Chatswood opened in 2016. It's maiden residential development, Silkwood by Silkari® in Pagewood, Sydney, completed in May 2019, providing 256 apartments and townhouses.
It was first rejected in 2017 because the bigger resort with 105 residential lots would create "environmental impact, traffic and planning concerns".
That application carried forward much earlier plans from 2009 lodged by another developer, HTT Huntley Heritage, which sought to create a state-of-the-art 18-hole golf course, a clubhouse, golf lodge accommodation and teaching facilities as well as the housing lots.
The new conditions reduced the number of lots that Visionary could build to 99 and required a relocation of the clubhouse access road, the repositioning of some buildings and car parks as well as the relocation of golf holes.
A council spokeswoman said the conditions also included the observation of other technical issues over water or waste water connections that need to be resolved before a Construction Certificate could be issued.
The golf course will also now have four holes, which makes it "less crowded around riparian corridors", Visionary says.
The integrated resort will be called Silkari Avondale.