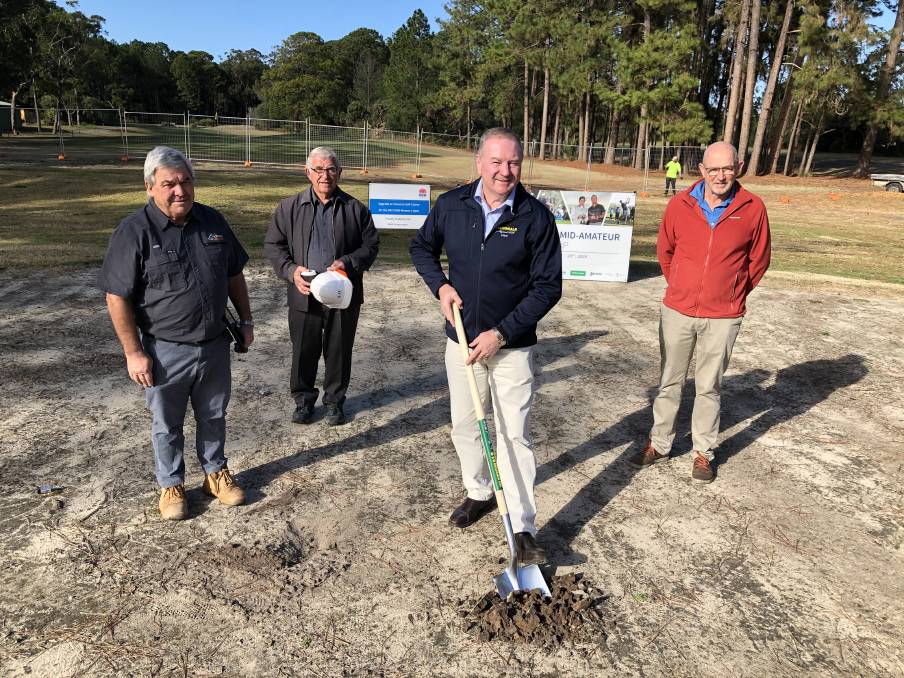 The new Forster Tuncurry Golf Club facility and museum became a reality earlier this week with the official sod-turning ceremony marking the start of construction on the multi-million dollar project.
Local member, Stephen Bromhead, who was instrumental in securing State government funding for the $3M initiative, was tasked with the honours, accompanied by club president, Pat Burn along with local building company representatives, Geof Morgan and Mike Papadopoulous, Tilt Building.
An elated Pat Burn said the ceremony was the culmination of 15 months' hard work to ensure the project proceeded.
Mr Burn said it won't be long before golfers and guests can sit on the front verandah, enjoy the facilities and watch the golf.
The new building, which will overlook the first tee, ninth and 18th greens, is scheduled for completion early next year.
Mr Burn said the new facility could attract both State and National golfing events, while the museum was expected to boost tourism for the Great Lakes and beyond.
The project also includes more than $ 800,000-course improvements, designed by former Australia Golf Professional, Craig Parry.
The original course, designed by Australian golfers, Kel Nagle and Mike Cooper, recognised as a championship course, has been let down by the lack of facilities.
Tuncurry golfer and Australian professional, Sarah Kemp said the course was challenging and a true championship course.
Ms Kemp said she was looking forward to the new facilities.