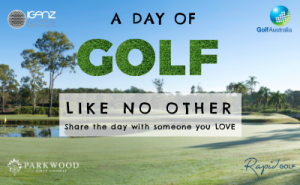 On October 5, Club Parkwood on the Gold Coast teed off a fun-filled day of golf activities in conjunction with this years' launch of the annual event of Golf Month.
Golf Month is a nation wide initiative supported by Golf Australia which encourages Aussies to get involved in golf and golf-related events during the full month of October, with this year's theme of 'sharing the game you love with someone you love'.
And just as golf clubs and facilities around the country prepared to swing their doors open to a wide variety of exciting activities, Club Parkwood, one of the most diversified golfing facilities in the country and headquarters to the Titans NRL, arranged "A day of golf like no other" – featuring a smorgasbord of golf activities for people of all ages, levels and abilities, to tee off the initiative in the state of Queensland.
Parkwood Managing Director Luke Altschwager said the versatility of the club and its variety of family friendly activities had been a fruitful concept in getting people to the site and to start playing golf.
"What we realised very early on was that 45,000 people coming to play golf annually was not enough people, and we're proud to say now we have over half a million people visiting the property every year," he said. "Whether that's kids and their family playing mini golf or in the simulators or in the bar and bistros, or in the trampoline centre."
"What we've created is a hub which is framed around golf and we've really had a great deal of success getting people to the property."
Organised in collaboration with Golf Industry Central and Golf Queensland, the day of golf involved a 7:30am 18-hole shotgun start followed by Mini Golf, Rapid Golf, Family Fun Golf, Golf Simulators, continuous golf coaching, Golf Pilates and Inclusive Golf courtesy of Empower Golf Queensland.
Parkwood is the first Empower Golf hub in Queensland and the premier inclusive facility on the Gold Coast. All disabled bodies are able to play and hire the ParaGolfer free at charge, making the club one of the most welcoming community venues in Australia.
In 2016, Parkwood and Empower Golf Queensland were awarded the prestigious 2016 Inclusive Services Award from the Sporting Wheelies for their combined efforts.
Disabled golfer and Empower Golf coach Ben Tullipan said it's the social aspect of the game that entices him the most. "Just being out in the fresh air, having fun with your mates, you know, socialising," he said.
After running Queensland Amputee Golf for nine years Tullipan contacted James Gribble, Founder of Empower Golf Australia, to help encourage more people to play golf. For the past four-and-a-half years he has been coaching clinics for Empower's Queensland division, now with over 400 students.
Late last month Tullipan was awarded Gold Coast Bulletin's 2018 Service in Sport Award for his tireless efforts in helping others and developing a welcoming disability golfing community.
On the day of the Golf Month introduction, around midday, the activities were intersected by a media launch, which saw Deputy Gold Coast Mayor Donna Gates discuss the benefit of golf to Gold Coast tourism and lifestyle.
Departing Titans NRL Rugby League team CEO, Graham Annesley and Australia's leading player in the recent World Amateur Teams Championship, Becky Kay, were also interviewed by the MC Bruce Young. "I just love going outside playing golf and having heaps of fun, that's the main part, said Kay who recently finished in 6th place at the Espirito Trophy in Ireland.
"I started playing when I was ten and making friends when I was young, playing a not such a popular sport for a girl, is what made me stick with it for the last nine years," Kay added in relation to "sharing the game you love".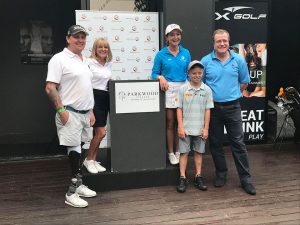 On the back of another hugely successful promotion in 2017 which saw a total of 344 participating facilities across the country, clubs had even more incentive to get involved this year with the most innovative program for Golf Month offering the chance to win a $15,000 marketing package with Australian Golf Digest.
People who embraced the theme of the initiative and "share the game they love with the people they love", could be in the running to win a once-in-a-lifetime prize of a trip for them and a mate to attend The 148th Open at Royal Portrush in Northern Ireland next year.