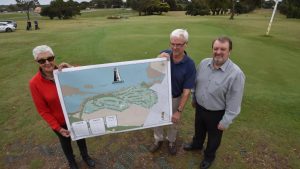 POINT Lonsdale Golf Club is hopeful that work on the latest stage of its major upgrade is just months away.
The revamped vision includes a redeveloped 18-hole golf course and a new ­clubhouse overlooking Lake Victoria.
Geelong councillors last night voted to release the amended plans for public comment.
The club hopes to begin works, which would lead to the closure of nine holes of the course during alternating periods, in the second quarter of 2018.
The modification means an approved development plan for the wetlands — which came after a drawn-out 10-year process due to its environmental concerns — will be abandoned.
The new plan removes the need to use land to the south of the lake.
In a win for environmentalists, significant habitat, particularly identified sites for the ­endangered orange-bellied parrot, will remain ­untouched.
Council's planning and development director Kelvin Walsh said the changes were supported because the works would now be carried out on cleared farmland.
"The new, more modest plans will result in a greatly improved environmental outcome
and provide a positive closure to this long-running project," he said.
"The new project no longer proposes construction of golf course holes next to Lake Victoria, significantly reducing the likelihood of bird habitat disturbance."
The previously approved plan included a permanent conservation reserve on the neighbouring rural property on the edge of Lake Victoria.
It will no longer be needed.
The golf club development is being backed by a 100-lot housing estate, which is worth potentially $50 million.