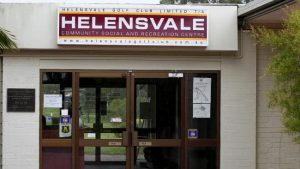 In an announcement last week, Councillor William Owen-Jones has informed residents of a proposal from a golf course operator to bring Helensvale Golf Course back to playing standard, without City investment.
The Gold Coast City has been maintaining the site  in a holding pattern since assuming control of the property last year. The City then conducted two separate tender processes in order to seek a lease to manage and operate the golf course
According to the announcement, in late March 2019 an experienced golf course operator approached the City with a proposal to bring the course and associated facilities up to a suitable standard on the basis of a long-term tenure without City investment.
Councillor William Owen-Jones appeared on radio last week and described the operator as "a family with two decades of experience operating three golf courses in SEQ, not the Gold Coast, and have built golf courses before."
In the letter to residents Owen-Jones said "the committee has recommended to Council that negotiations be entered into to secure a long term (25 year) lease over the entire Helensvale Golf Course site, on the basis of the on-going management and operation of the land as a golf course,"
"It is anticipated that it may take the new operator several months to return the course to a playable standard, with the proposed new golf operations potentially commencing prior to the end of 2019."
The recommendation of the committee will go to full Council in June.