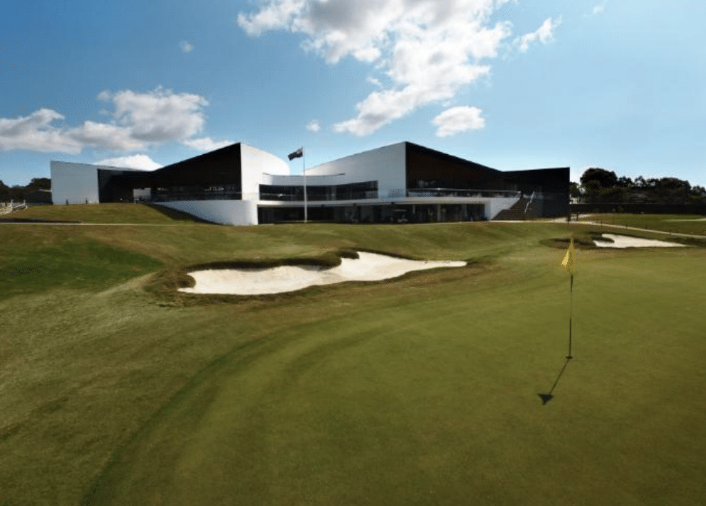 By Mathilda Andersson
Sitting in the lawyer's office some three years ago Neil Hardy was made an offer he could not refuse when opening tenders for Strathfield Golf Club's partial land auction. That day he accepted an offer which exceeded the initial valuation by almost $20m. The rest is about to go down in golf club history.
The golf club's colossal venture has been labelled a game changer by the industry, and general manager Neil Hardy has been commended for his decision to sell off a chunk of the club's most valuable asset ­­­– the golf course land, when faced with incessant financial hardships.
The epic trade would see the practice range, old clubhouse and car park redeveloped for residential housing by Brisbane developer Metro Property. Metro Property has since on-sold the clubhouse and car park site to apartment developer Conquest, which is planning for two high-rise apartment towers expected to be complete by mid 2020.
Now, after a long and winding road according to himself, Hardy can finally sit back and marvel at the golf haven he has created as the club is preparing to swing open its doors to a brand new state-of-the-art clubhouse and multi-million dollar revamped golf course.
"…It's been a long road and it's very exciting to be getting to the end of it," Hardy told Inside Golf.
"Just to be at the stage we're at now – watching all the fittings, the carpet, the furniture and everything going in suddenly brings a touch of reality to the whole project.
"Maybe those sleepless nights will be coming to an end now."
"It's a great feeling of satisfaction for both the club and our members to have seen this deal through and to have been able to stay alive and still trade during the years of negotiations."
The premier Sydney club has over the past few years experienced one of the most monumental redevelopments of any club in the history of golf in the state. In 2015, a complex rezoning of the original course layout from 1931 commenced in order to sell off the site. In the initial stages the Board only intended to trade off the practice Fairway but was later advised to rezone the clubhouse area as well and relocate the clubhouse entirely to the other side of the site.
Today, in all its glory, the clubhouse, designed by architect firm Altis, comes at a price tag of over $20m. The building design resembles the shape of three driver heads and the architect wanted to ensured the building maintained a strong sense of connectivity to the course itself and key moments in the game can now be enjoyed by patrons in the clubhouse through panorama windows.
The club's new facilities include new locker and change rooms, multiple meeting rooms, a business centre, function rooms accommodating 300+ guests, 100 seat bistro, café area and a fleet of 60 new electric carts.
The titanic new golf shop has three hitting bays, each with simulators for club fitting, lessons and rounds of indoor golf, as well as a putting simulator with a floor which can be raised or lowered for uphill and downhill putts positioning the club as a first-class facility for golf and events in the broader Sydney metropolitan area.
"We did a lot of planning and research; you can't survive on golf income alone these days so it was hospitality and events we were interested in attracting and to get that you have to be competitive, said Hardy about the new convention space.
"We needed the 'Wow Factor' and that was part of the brief to the architects – we wanted to be in a position to attract a lot of business here,"
"Times have changed and you can no longer rely on golf income to keep you going," he said. "Clubs will battle if they don't have other options."
Over $6m was put towards a dramatic overhaul of the golf course, courtesy of internationally acclaimed course architect Jim Wilcher from Golf by Design.
Flemming Contracting were engaged to carry out all the shaping of the golf course resulting in nearly 20,000 cubic metres of fill being removed from the new clubhouse site to be carried over to the second green and seventh fairway/green. In all, 15 holes were completely rebuilt.
"It's been a wonderful project to be involved in and it has allowed us to showcase the local home grown talent in terms of design and construction," Wilcher commented on the project. "(The) Flemmings have turned my vision into something very special,"
"I think Strathfield Golf Club will have something for all golfers, good and bad, with an emphasis on fun rather than a need for the modern power game," he said.
"Now Sydney's most centrally located golf course will be on every Sydney golfer's 'must play' list."
Given that the reconfiguration took over two years to come to fruition, it was paramount for the club to be able to offer members 18 holes play on temporary greens during the entire phase of renovations.
Click here to read full story in GIC Summer e-magazine