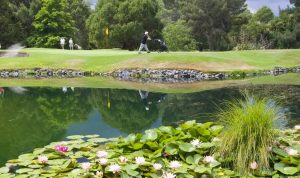 Wairakei Golf + Sanctuary have had a sudden decline of the putting surfaces at Wairakei, with signs of a problem with the greens becoming apparent during Easter weekend.
Extensive soil and foliar tests conducted by the NZ Turf Institute have returned clear results. The club is awaiting further turf analysis tests but have been advised that the cause of the damage is due to the inadvertent application of a herbicide.
The club suspect that the introduction of this substance was intentionally done so by a third party.
Like most courses, Wairakei monitors the greens on an ongoing basis and regularly get the NZ Turf Institute to analysis them.  The club was informed that prior to this incident they were in an extremely healthy state.
Unfortunately, given the onset of winter and lack of growth over this period, there is no realistic chance of recovery until the spring the club has announced.
A decision has been made to reduce the green fee, effective from Saturday 11th May, to a flat rate of $100 green fee per player.
Found off the Thermal Explorer Highway, north of Taupo, the green fees for a registered New Zealand golfer is usually $165.
Set midway between Auckland and Wellington, the course was built by the New Zealand Government and officially opened in 1970.
The owner and staff are deeply devastated by what has occurred, as they take great pride in presenting an exceptional product and experience.
According to the club's website it was voted as the best in the country following a survey by Golf Update in 2010.
The situation will be continually monitored and assessed as to their recovery.