The Australian Golf Course Superintendents Association (AGCSA) is encouraging all club members, administrators and those who love golf, to thank their Course Superintendent and course management teams during the upcoming 'Thank a Superintendent Week' from 13th to 20th May.
After the success of the inaugural campaign run in 2018, the week is designed to drive awareness of the great contributions golf course superintendents and their teams make to the game of golf in Australia, and to thank sports turf management teams for their continued efforts in maintaining Australia's world-class facilities.
With Australia experiencing a variety of extreme weather conditions – from bushfires to floods, excessive periods of prolonged heatwaves well above annual temperature averages – and many parts of the country experiencing the most significant drought ever recorded, through all of this, superintendents and teams have been working tirelessly to manage the largest and most valuable asset of every golf facility – the Course.
As superintendents and their teams continually strive to keep the game's turf and surrounds healthy and attractive, environmental stewardship is always a primary focus. Thanks to the efforts of many superintendents, Course Managers and their teams, Australia is home to some of the most breathtaking courses in the world; where golfers continue to experience playing on top quality facilities.
From small regional gems, to international tourism drawcards, to remarkable metropolitan icons, Australian golf courses are maintained by dedicated teams, delivering hundreds of thousands of rounds of golf every year, prepared employing sustainable environmental management practices and expanding greenspaces and natural wildlife habitats.
To recognise their efforts, the AGCSA's 'Thank A Superintendent Week' campaign recognises the efforts of superintendents and course management teams.
The AGCSA encourages all club members, and administrators to get involved, by posting a message of thanks to their Superintendent and course management team to Social media using the campaign hashtags of #ThankASuperAUS and #OurAGCSA.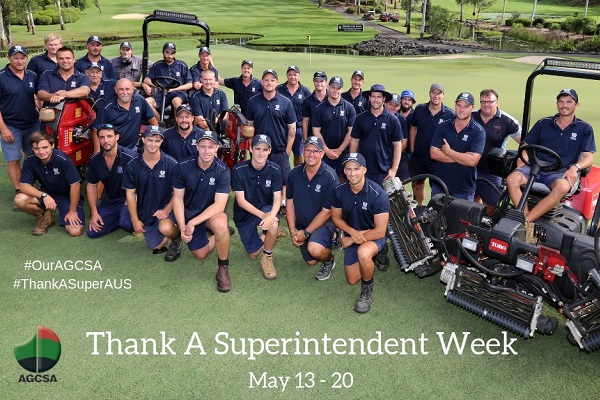 Some of the areas that make superintendents so valuable to golf in Australia:
Constant education, knowledge sharing and research and development by superintendents have resulted in turf that needs less water, is more sustainable and offers natural wildlife habitats on courses.
Superintendents manage labour, materials and costs associated with preparing and maintaining the course at its finest, and they are also heavily involved in the business-related activities of the facility including staffing, HSE and training.
Superintendents manage the health of the golf course, the sporting needs of the public, members and their guests, and the financial sustainability of the golf club
Help promote player, member and club satisfaction through maintaining a quality golf course maintenance program
Golf Course Superintendents guide clubs to adopt water management and water conservation practices, reduce irrigated acreage and use innovative technologies, such as targeted irrigation systems and ground moisture measurement tools, along with weather monitoring systems, providing the science to utilise water only when and where it is needed.
A statement from AGCSA advises "among the dozens of tasks Superintendents undertake daily, are the operation of plant, equipment and machinery, irrigation design and construction, vegetation management, HSE education, turf trial and field research, environmental stewardship and assisting in course operations for members, social and tournament golf
"The management of sports turf is a science, combining elements of chemistry, biology, horticulture, meteorology, soil and water sciences, entomology and plant pathology.
"Superintendents are highly educated and invest in continual learning and implementation of best practice management and environmental stewardship."