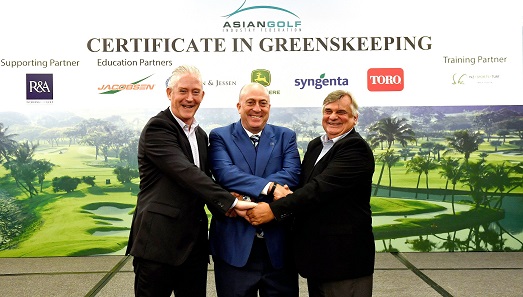 Now into its second decade, the Asian Golf Industry Federation (AGIF) is well positioned to diversify and grow, according to outgoing CEO Eric Lynge.
Standing down from his position at the helm of the AGIF, Lynge painted a bright picture for the Federation's future.
Reflecting on his tenure, Lynge said: "After close to seven years at the AGIF, I have decided to move on to another chapter in my personal and professional life.
"I believe we have achieved our objectives in education with the establishment of the Certificate in Greenkeeping, with the support of The R&A, establishing the affiliate partnership with the Club Management Association of America to launch their Certified Club Management degree in Asia.
"The AGIF is now well positioned to diversify into sports stadium management, thought leadership/research, as well as the eventual running of a large Expo, gathering the global community together in Asia."
Steered through the pandemic
Richard Walne, the AGIF's President, said: "As the Federation's first CEO, Eric has led from the front for the best part of seven years. He has steered the Federation through some difficult times brought on by the Covid-19 pandemic and helped to lay solid foundations from which we can move forward confidently.
"With Eric moving on, the Board feels the time is right to put in place a new structure which will see the arrival of a membership manager, who will be focused on bringing in new members to the Federation, and an accountant.
"As we look to the future, the Board is optimistic that the Federation will become an increasingly influential player in the golf industry in Asia and beyond."
Lynge, who will vacate the post in mid-August, commented: "I would like to thank the Board, members, executive team and all partner organisations with whom I have been able to share this journey."
Related Articles: