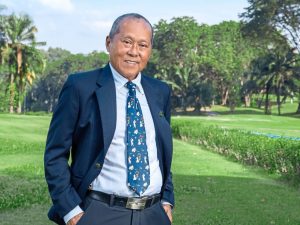 In light of the projections of the pandemic recovery plan announced the government this week, the Golf Club Managers Association of Malaysia (GCMAM) feel the sport should be seen in a different light.
And to be more precise, the association feels that golf is a "non-danger sport".
According to the roadmap of recovery announced this week, Government has earmarked a reopening of golf clubs, and other sport activities, in September-October.
No gatherings after golf
In a wide-ranging interview with TeeUp,Golf Club Managers Association of Malaysia president Dr. Ronnie Yeo Ngo Tee said "golf is played on an open course and should present no infectious problems to the spreading of Covid-19.
"It is merely the gatherings after a round of golf that may pose a risk of transmission," he said. "However, control and restrictions in the number of players, the usage of single buggies for golfers and the prevention of social gatherings after the game should render the game of golf to be a non-danger sport."
He added that the managers' association has highlighted that golf, if played in a controlled environment and with the standard operation procedures in place, is a non-infectious sport.
"Also, golf should be allowed to reopen earlier than most other sports as the authorities have even endorsed some golf clubs with SOP compliance certificates not too long ago."
Operations must continue
Turning to the general state of most golf clubs in the country at this time, given that some have been in lockdown for more than a month now, Yeo said: "Our golf clubs have been bearing losses because golf courses and facility maintenance operations must be continuously carried out, even when there are no guests or golfers around.
"As an association that still has no voice in government and with most Malaysian golf clubs being disunited, we unfortunately cannot offer much to assist (golf clubs) during this current pandemic as much as we would like to stand up for our industry."
However, he did say that despite the pandemic bringing hardship for the golf clubs, they do maintain regular contact and interaction with them (golf clubs).
"Regular contact is maintained with those actively involved in the discussions via our GCMAM WhatsApp group that currently includes over 100 decision-makers working with and in Malaysian golf clubs.
"The topics discussed usually are in regards to how the industry can move forward, if at all, during these trying times and on plans to work closer together once we are allowed to."
Probed on what else could be done to further improve things for the golf industry as a whole and keeping in mind the pandemic, Yeo said: "The authorities should look closely and better understand that golf brings health, wealth and peace of mind to many. There is also no danger of Covid-19 being spread in golf courses during the game with controlled play."
Related Articles: