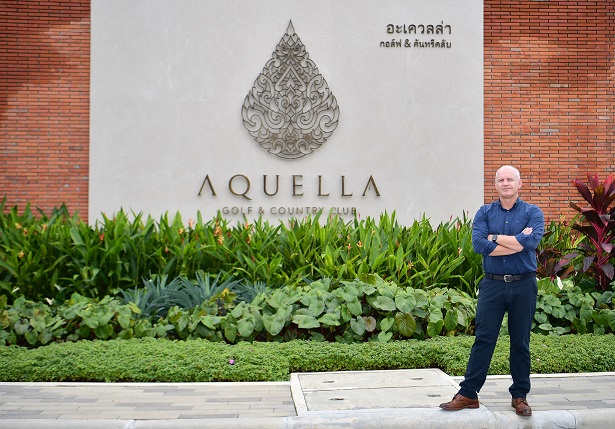 Scotsman Simon Mees has been appointed as General Manager at Aquella Golf and Country Club, Thailand's newest golfing establishment.
"Simon boasts more than 25 years of experience in golf course management and will undoubtedly be a huge asset to Aquella as the club becomes operational," said a spokesperson for Absolute Golf Services (AGS), who manage the complex.
Hospitality experience
"Originating from the home of golf, Simon has vast experience of working in Scotland, Middle East, and Southeast Asia and brings with him highly regarded management expertise in all facets of club and hospitality management.
"Under Simon's leadership, we believe that the team will be able to set a new standard for members and guests' experience in the region as Aquella Golf and Country Club welcomes its first golfers on August 1," added the AGS spokesperson.
A 30-minute drive from Phuket International Airport, the par-72, 18-hole course extends over 7,000 yards in the heart of the Aquella complex, located on the Andaman coast.
Future developments include on-course pool villas, luxurious condominium complexes, and six-star resorts/hotels along the stretch of 2.5 kilometres of Thai Muang beach covering more than 1.8 million square metres of land.
Open August 1st
The course is highlighted by Platinum Paspalum grass fairways, greens, and tees surfaces and strategically placed bunkers guarded by vintage railway sleepers.
Guests can also enjoy a smooth and comfortable ride with Aquella's Club Car Tempo golf carts which are equipped with the latest Visage GPS technology to enhance the golfing experience.
Aquella Golf and Country Club will open its doors to golfers on August 1. Introductory rates for Thai residents have been set at THB 1,650, inclusive of green fee, caddie fee, golf cart and a tray of range balls. For visitors, the introductory walk-in rate is THB 1,750.
*Aquella Golf and Country Club is a Facility Member of the Asian Golf Industry Federation and Absolute Golf Services is an Associate Business Member.
Source: agif
Related Articles: