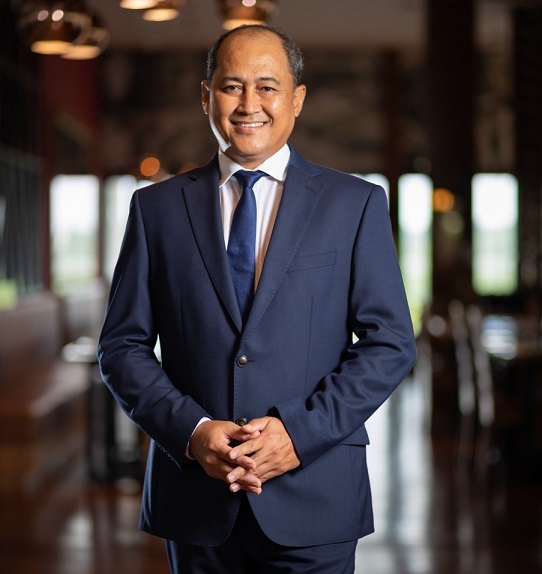 As international travel resumes, The Els Club Desaru Coast's new General Manager Harris Abdullah is gearing up to welcome golfers from around the world to grace its award-winning fairways and abundant wildlife again.
A familiar face among regular golfers at The Els Club Desaru Coast, Harris, who recently succeeded Steven Thielke, is known for his amicable and hospitable disposition. Harris' stellar career has been one of consistent high-quality performance in the golf industry.
His appointment as General Manager at The Els Club Desaru Coast is set to drive greater value to this Troon Golf-managed facility to continue drawing enthusiastic golfers to Desaru Coast via a combination of strategies.
Diving into action, Harris' immediate task is to ensure business scalability with the reopening of the international borders while his mid and long-term goals comprise customer-centricity and sustainable development.
Harris said: "We've been receiving many enquiries lately from travellers on golfing at The Els Club Desaru Coast. We believe many more regular travellers to Malaysia are eager to resume their golf outing in Desaru again."
Harris joined The Els Club Desaru Coast as a pioneer team member in 2016 with more than 23 years of experience in a semi-private club and resort.
He was greatly involved since the club's pre-opening where he worked with the ownership to establish the two stately clubhouses, the 27-hole Ocean Course, 18-hole Valley Course and The Els Performance Golf Academy with complete facilities. The 46-year-old Harris was also instrumental in the implementation of standards that are aligned to Troon Golf's policy every step of the way.
Harris began his career in 1996 at Cherry Hills Golf Club in California where he learned the ropes of golf operations. A year later, he returned to Malaysia to join Pulai Springs Resort in Johor. That was followed by a 15-year stint at Ria Bintan Golf Club & Resort in Riau, Indonesia where his last position was Resort Manager.
He successfully directed several major tournaments at amateur and professional level. Many of these events have provided first hand collaboration opportunities with international golf brands such as the Asian Tour.
Desaru is located in the southeast of Johor and is a 45-minute drive from the Senai International Airport and a 1½-hour drive from Singapore. The soon-to-be opened Desaru Coast Ferry Terminal is set to transport passengers from Singapore directly to Desaru Coast.
Popular for its Stay and Play packages, The Els Club Desaru Coast offers golf with accommodation at Desaru's The Westin Desaru Coast Resort, Hard Rock Hotel Desaru Coast and Anantara Desaru Coast Resort & Villas. Also available are Stay and Learn Golf packages. Meanwhile, regular golfers at The Els Club Desaru Coast are encouraged to opt for a Privilege Pass for unlimited golf rounds per year.
Prior to the reopening of the borders, the agronomy team seized the opportunity to nurture the golf courses with scheduled upkeep routines on The Ocean and Valley Courses.
The Els Club Desaru Coast (Facility) and Troon (Executive) are both members of the Asian Golf Industry Federation.
More Asia News: