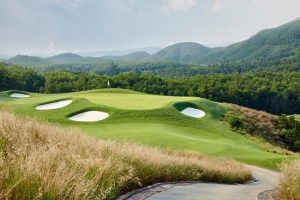 The 20th annual IAGTO Golf Tourism Awards was focused on recognising the achievements of golf courses and hotels that delivered the best possible experience to visiting golf travellers in the past year. IAGTO's 700+ golf tour operators worldwide voted for one hotel and one golf course/golf resort in 25 leading golf destinations worldwide.
Winners were announced at the IAGTO Awards Ceremony on the evening of Thursday 17th October 2019 at the Bivouac du Désert Gala Dinner venue in Marrakech on the final night of the International Golf Travel Market (IGTM).
Ba Na Hills Golf Club is proud to announce that it is the winner for Vietnam in the first IAGTO Best Golf Experience category. "Vietnam is now a world class golfing destination with a high number of excellent golfing options. At Ba Na Hills GC we strive for the highest service standards to remain competitive and we believe in going the extra yard to create unforgettable experiences for our customers, so we're delighted and very proud to be recognized by IAGTO with this award" said Tim Haddon, General Manager of Ba Na Hills GC.
Vietnam is one of the fastest growing golf markets in the world, accounting for almost 30% of the 149 golf course projects in development across Asia. Ba Na Hills GC is situated on Vietnam's Golf Coast in the verdant mountains surrounding the city of Da Nang. The area is home to six world class golf layouts designed by some of golf's biggest names, all within 1 hour's drive of each other. Da Nang International airport services up to 34 international flights per week.
Ba Na Hills GC is managed to the highest service standards by IMG and owned by Sun Group one of the leading investors in Vietnam. The Intercontinental Danang Sun Peninsula Resort, Novotel Danang Premier Han River Hotel and Ba Na Hills Sunworld are among the other properties in the portfolio.
For more information about Ba Na Hills Golf Club, or to book a tee time, visit banahillsgolf.com