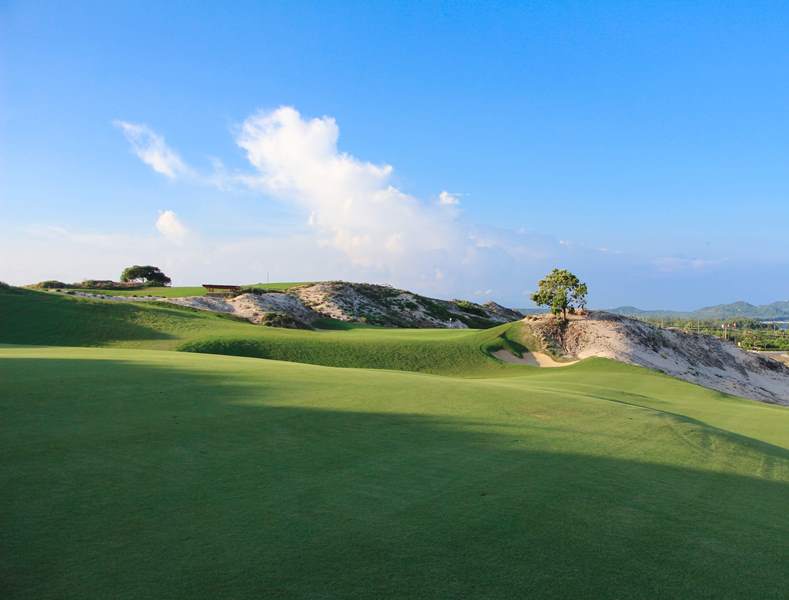 The club on Vietnam's south-central coast came in at no. 76 in the third instalment of the planet's most widely-read golf publication's 'World 100 Greatest Golf Courses' ranking.
Revealed last week, the latest edition has Vietnam's most acclaimed course as the top-rated track in the Southeast Asian nation, 13 spots ahead of Ba Na Hills Golf Club near Danang, which is the only other Vietnamese club on the list.
The Greg Norman-designed course, which marked its fifth anniversary last year, holds its own among gilded company, including some of the world's most legendary golf courses.
It finished ahead of venerable names such as The King's Course at Gleneagles in Scotland and newer bucket-list golf destinations such as Le Golf National's Albatros course in France (the site of the 2018 Ryder Cup) and Trump International Golf Links Doonbeg in Ireland.
"We're absolutely thrilled to be named among the world's elite golf courses for the third consecutive time," said Gary Dixon, General Manager of The Bluffs. "There are now close to 38,000 golf courses on the planet. And with hundreds of top-class layouts coming online every year all vying for a spot on this list, that's some very stiff competition indeed."
Designed by legendary golfer Greg Norman, The Bluffs Ho Tram Strip is regarded as one of his crowning design achievements.
Routed over and around towering seaside sand dunes, it is one of the few championship-calibre links courses with significant elevation changes, making for a golf experience that's as much a feast for the eyes as it is a challenge to tame.
Despite its already-lofty standing among the world's elite layouts, The Bluffs has recently completed a multi-faceted enhancement project designed to further elevate its profile.
In addition to reducing the amount of vegetation that has overtaken some of the dunes and removing excessive turf between and around many of the tee boxes, the maintenance crew is working with U.S.-based turf and water specialists to improve the performance of the playing surfaces, especially the greens.
"The enhancements mean the course is continuing to evolve and we are committed to offering the best true links golf experience in Vietnam for our members and visitors to enjoy for now and into the future.
"This combined with the ongoing development of the Grand Ho Tram Resort will, we hope, make us one of the finest stay and play golf destinations in the world!"
Golf Digest's 'World 100 Greatest Golf Courses' is produced with input from certified course raters from all around the world.
The top spot in the poll belongs to Northern Ireland's Royal County Down, followed by Tara Iti in New Zealand and Muirfield in Scotland. Another Scottish course — Royal Dornoch – and Australia's Royal Melbourne round out the top five.